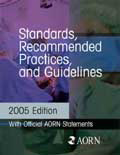 Author: AORN Staff
Affiliation:
Publisher: Association of periOperative Registered Nurses
Publication Date: 2005
ISBN 10: 1888460334
ISBN 13: 9781888460339
Edition: 2005

Description:
AORN's classic resource for perioperative practice brings together all of the Association's official positions and recommendations in one unique volume--from professional practice standards to laser safety, from competency statements to aseptic technique, from clinical pathways to patient safety. The 2005 edition features new guidelines for bariatric surgery, the new position statement on patient safety approved by the 2004 House of Delegates, and updated bylaws provisions for members-at-large. Strategies to assist perioperative nurses in developing facility-specific policies and procedures are included in new guidance statements on patient care in the ambulatory surgery setting, patients with implanted electronic devices, fire prevention, sharps injury prevention, specimen handling, and perioperative staffing and on-call practices. Updated content also includes revised recommended practices for cleaning, handling, and processing anesthesia equipment; surgical attire; high-level disinfection; electrosurgery; and endoscopic minimally invasive surgery.
Related Titles