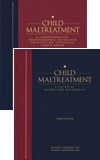 Author: Angelo Giardino, MD, PhD, FAAP, Randell Alexander, MD, PhD, FAAP
Affiliation:
Publisher: G.W. Medical Publishing, Inc.
Publication Date: 2005
ISBN 10: 1878060546
ISBN 13: 9781878060549
Edition: 3rd

Description:
Edited by two internationally recognized professionals, this thoroughly updated reference is designed to aid in the identification and interpretation of child maltreatment in its various forms. Child Maltreatment Two Volume Set presents specific professional, state, national and international issues from a multidisciplinary prospective using terms known across professional lines to facilitate cooperation and collaboration transcending jargon and regional borders. This third edition includes critical new findings on subjects such as cultural aspects, federal funding opportunities, abuse within faith-based settings, DNA evidence, forensic evidence collection, giving expert testimony, and prosecutorial issues. The accompanying Child Maltreatment Photographic Reference provides vivid new photos and images to illustrate child neglect, tools and tips for photodocumantation, and effective prevention efforts.
Related Titles