Pediatric Clinical Practice Guidelines & Policies
A Compendium of Evidence-based Research for Pediatric Practice
This title has been archived.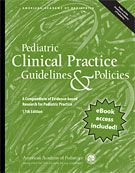 Author: AAP
Affiliation: American Academy of Pediatrics
Publisher: American Academy of Pediatrics
Publication Date: 2017
ISBN 10: 1610020855
ISBN 13: 9781610020855
eISBN: 9781610020862
Edition: 17th

Description:
Revised and updated for 2017, this is an evidence-based decision- making tool for managing common pediatric conditions, with the latest clinical practice guidelines for more than 30 conditions, plus every AAP policy statement, clinical report, and technical report through December 2016. Key features include revised AAP policy statements, quick reference tools including coding tips and patient education handouts, printed text and CD-ROM include full text of all AAP clinical practice guidelines and fully text of 2016 AAP policy statements, more than 500 policy statements, clinical reports and technical reports, and AAP-endorsed policy statements from other medical groups.
Related Titles