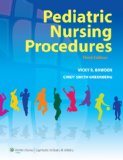 Author: Vicky Bowden, DNSc, RN, Cindy Greenberg, DNSc, RN, CPNP, FAAN
Affiliation: Azusa Pacific University; Azusa, CA
Publisher: Lippincott Williams & Wilkins
Publication Date: 2012
ISBN 10: 1605472093
ISBN 13: 9781605472096
eISBN: 9781469866185
Edition: 3rd

Description:
This pediatric procedures book provides the student and professional nurse with a quick reference to essential nursing procedures and standards for practice. Its format is easily adaptable to organizational policy and procedure manuals. Chapters are alphabetically presented by procedure and contain clinical guidelines for practice. Tables and charts summarize key diagnostic information or parameters.
Related Titles