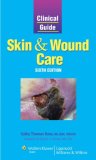 Table of Contents Available
This title has been archived.
Author: Cathy Hess, RN, BSN, CWOCN
Affiliation:
Publisher: Lippincott Williams & Wilkins
Publication Date: 2008
ISBN 10: 1582556881
ISBN 13: 9781582556888
eISBN: 9781469865485
Edition: 6th
Description:
Completely updated for its Sixth Edition, this handbook is the only all-in-one portable guide to skin and wound care, with new chapters on skin care and incontinence, important new information on regulations, and more than 650 dressings, drugs, and other products for every type of wound. Part I provides detailed guidelines on wound care and prevention and related professional and legal issues. Part II features profiles and photographs of over 300 wound care products. Part III contains charts of over 300 additional products. Appendices include assessment tools and multiple treatment algorithms. A manufacturer resource guide with Website listings is included.