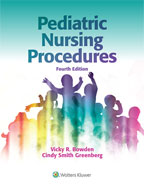 Author: Vicky Bowden, DNSc, RN, Cindy Greenberg, DNSc, RN, PNP-BC, FAAN
Affiliation:
Publisher: Lippincott Williams & Wilkins
Publication Date: 2016
ISBN 10: 1451192363
ISBN 13: 9781451192360
eISBN: 9781496329622
Edition: 4th

Description:
Absorb the vital principles, interventions, and strategies of family-centered pediatric care, with the newly updated Pediatric Nursing Procedures, Fourth edition. Emphasizing interdisciplinary teamwork, this irreplaceable how-to offers clear direction on more than 120 pediatric procedures, all based on current research and international best practices. All procedures address community care settings, with a focus on school and home nursing issues. This is the perfect clinical guidebook for nurses delivering care to children in any health care setting, and a vital text for all nursing students.
Related Titles