Evidence-Based Practice for Nurses
Appraisal and Application of Research
This title has been archived.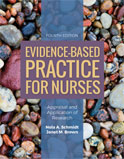 Author: Nola Schmidt, PhD, RN, CNE, Janet Brown, PhD, RN
Affiliation: Valparaiso University, Valparaiso, IN
Publisher: Jones & Bartlett Learning
Publication Date: 2019
ISBN 10: 1284122905
ISBN 13: 9781284122909
eISBN: 9781284122916
Edition: 4th

Description:
Evidence-Based Practice for Nurses: Appraisal and Application of Research, Fourth Edition is an essential resource for teaching students how to translate research into practice. The text is based on the five step IDP process (knowledge, persuasion, decision, implementation, and confirmation). The authors employ a fresh and updated approach to teaching nursing research using evidence-based practice. The Fourth Edition features more real-world examples, expanded coverage of qualitative methods, discussion of various types of research questions and explores the hierarchy of evidence.
Related Titles