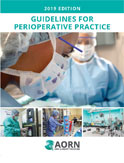 Author: AORN
Affiliation:
Publisher: Association of periOperative Registered Nurses
Publication Date: 2019
ISBN 10: 0939583054
ISBN 13: 9780939583058
eISBN: 9780011332024
Edition: 1st

Description:
AORN's Guidelines for Perioperative Practice provide direction for achieving excellence in perioperative patient care and workplace safety. These evidence-based guidelines are intended for use by perioperative professionals to promote safety and optimal outcomes for patients. The Guidelines are available for individuals or teams within facilities and multi-site health care systems.
Related Titles