Pass CNOR!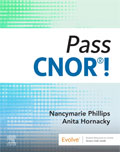 Author: Nancymarie Phillips, BA, BSN, PhD, RN, MEd, RNFA, CNOR(E), Anita Hornacky, BS, RN, CST, CNOR
Affiliation:
Publisher: Elsevier Health Sciences
Publication Date: 2020
ISBN 10: 0323581978
ISBN 13: 9780323581974
eISBN: 9780323597418
Edition: 1st

Description:
Master the CNOR® certification exam with this robust resource! Modeled after Elsevier's popular Pass! series of certification review books, PASS CNOR®!, 1st Edition delivers the best practice results with innovative learning strategies, targeted, comprehensive coverage, and meticulous accuracy. This invaluable resource presents content in a logical outline format accompanied by helpful illustrations and tables. Fun, engaging learning activities are featured throughout the book, and a companion website features a 325-question practice exam offering you a variety of opportunities to gain valuable test-taking practice! CNOR® is a registered certification mark of the Competency & Credentialing Institute ("CCI"), and CNOR® certification is offered exclusively by CCI. This publication is prepared by Elsevier, Inc., and neither this publication nor Elsevier Inc. is in any way affiliated with or endorsed by CCI.
Related Titles