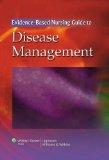 Author: LWW
Affiliation:
Publisher: Lippincott Williams & Wilkins
Publication Date: 2009
ISBN 10: 0781788269
ISBN 13: 9780781788267
eISBN: 9781469864891
Edition: 1st

Description:
The Evidence-Based Nursing Guide to Disease Management is part of a brand-new book series on evidence-based nursing. Solidly evidence-based and comprehensive, the book covers all current facts on more than 175 diseases. Coverage of each disease includes causes, signs and symptoms, diagnostic tests, current treatment modalities, nursing actions and considerations, and more. Graphic icons highlight new and emerging infectious diseases, important clinical alerts, health and safety tips, newsworthy developments and research, and the evidence behind certain facts.
Related Titles