Pediatric Acute Care
A Guide for Interprofessional Practice
This title has been archived.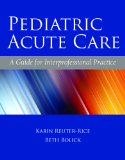 Author: Karin Reuter-Rice, PhD, NP, FCCM, Beth Bolick, DNP, NP
Affiliation: Assistant Professor, Specialty Director-Neonatal & Pediatric Nurse Practitioner Programs, Duke University School of Nursing, Durham, No
Publisher: Jones & Bartlett Learning
Publication Date: 2012
ISBN 10: 0763779717
ISBN 13: 9780763779719
eISBN: 9781449650988
Edition: 1st

Description:
This comprehensive textbook serves both as a reference for the practicing acute care pediatric nurse practitioners and as a resource for the acute care pediatric nurse practitioner in training. Further, it provides guidelines for the management of a pediatric patient in the emergent care and inpatient settings. Ideally targeted at either the master's or doctorate level, it functions as a primary textbook in the nursing practice pediatric nurse practitioner acute care curriculum. Also included are formatted Standardized Procedures/Practice Protocols for the acute care practice setting that can be adapted to the state and specific emergent and inpatient care setting.
Related Titles