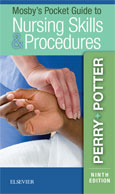 Author: Anne Perry, RN, MSN, EdD, FAAN, Patricia Potter, RN, MSN, PhD, FAAN
Affiliation:
Publisher: Elsevier Health Sciences
Publication Date: 2019
ISBN 10: 0323529100
ISBN 13: 9780323529105
eISBN: 9780323529099
Edition: 9th

Description:
Mosby's Pocket Guide to Nursing Skills & Procedures, 9th Edition, is a concise, pocket-sized study tool and clinical reference based on the best-selling textbook Clinical Nursing Skills & Techniques, 9th Edition! This spiral-bound presents 85 key nursing skills in a convenient, A-to-Z format. Step-by-step instructions include full-color photos plus rationales explaining why and how to use specific techniques to help you troubleshoot potential problems and take appropriate actions to address them. With the latest in evidence-based practice this essential guide is a great tool to help you safely and effectively perform core nursing skills. Clear, two-column format shows you how to perform skills, with rationales for each step explaining the reason behind the practice and the benefit to patients. Alphabetical organization of skills makes it easy to find information quickly, with each skill beginning on a new page. A convenient pocket size and spiral binding allow the book to fit easily into your coat pocket and to stay open on the page you want. Safety alerts highlight important information for patient safety and effective performance of skills. Special Considerations address teaching, the home care setting, and care modifications for pediatric and geriatric patients. Documentation guidelines include a bulleted list of what should be reported and recorded in the patient records.
Related Titles