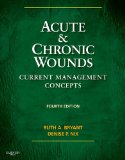 Table of Contents Available
This title has been archived.
Author: Ruth Bryant, RN, MS, CWOCN, Denise Nix, MS, RN, CWOCN
Affiliation: Partner, Bryant Rolstad Consultants, LLC
Publisher: Elsevier Health Sciences
Publication Date: 2012
ISBN 10: 0323069436
ISBN 13: 9780323069434
Edition: 4th
Description:
Reflecting the latest technologic advances and therapies, the extensively revised new edition of Ruth Bryant and Denise Nix's Acute and Chronic Wounds: Current Management Concepts remains your #1 source for today's best information on wound care. Using a strong nursing process and multidisciplinary approach, this best-selling title is an all-inclusive resource for anyone involved in the care of acute surgical wounds and all types of chronic wounds.
Table of Contents
Front Matter
ABOUT
Notice
DEDICATION
Contributors
Reviewers
Preface
SECTION I Foundations
CHAPTER 1: Principles for Practice Development

EDUCATIONAL PREPARATION OF THE WOUND SPECIALIST
NATIONAL CERTIFICATION: VALUE AND ROUTES
ROLES, FUNCTIONS, AND RESPONSIBILITIES OF A WOUND SPECIALIST
PREVALENCE/INCIDENCE STUDIES
MARKETING, JUSTIFYING, AND SECURING THE WOUND SPECIALIST ROLE
SUMMARY
REFERENCES

CHAPTER 2: Billing, Reimbursement, and Setting Up a Clinic

CREATING THE BUSINESS PLAN
CLINIC MANAGEMENT
CLINIC STRUCTURE
CLINIC OPERATIONS
DESCRIPTION OF PAYMENT SYSTEMS
FACTORS THAT INFLUENCE PROVIDER REIMBURSEMENT
CODING AND BILLING FOR SERVICES AND SUPPLIES
SUMMARY
REFERENCES

CHAPTER 3: Anatomy and Physiology of Skin and Soft Tissue

SKIN LAYERS
SKIN FUNCTIONS
FACTORS ALTERING SKIN CHARACTERISTICS
SUMMARY
REFERENCES

CHAPTER 4: Wound-Healing Physiology

MECHANISM OF WOUND HEALING
WOUND-HEALING PROCESS
WHAT MAKES A CHRONIC WOUND CHRONIC?
MEDIATORS OF WOUND HEALING
EXTREMES OF REPAIR: SCARLESS HEALING VERSUS EXCESSIVE SCARRING
FACTORS AFFECTING THE REPAIR PROCESS
SUMMARY
REFERENCES

CHAPTER 5: Types of Skin Damage and Differential Diagnosis

ASSESSMENT
MECHANICAL FORCES
MOISTURE AND CHEMICAL FACTORS
VASCULAR DAMAGE
INFECTIOUS AGENTS
ALLERGIC FACTORS
RADIATION
SUMMARY
REFERENCES

CHAPTER 6: Skin and Wound Inspection and Assessment

SIGNIFICANCE
ASSESSMENT
REASSESSMENT AND EVALUATION OF HEALING
SUMMARY
REFERENCES
SECTION II Pressure Ulcers
CHAPTER 7: Pressure Ulcers: Impact, Etiology, and Classification

SCOPE OF THE PROBLEM
VULNERABLE PATIENT POPULATIONS
TERMINOLOGY
CAUSATIVE FACTORS
PATHOPHYSIOLOGIC CHANGES
CLASSIFICATION OF PRESSURE ULCERS
SUMMARY
REFERENCES

CHAPTER 8: Developing and Maintaining a Pressure Ulcer Prevention Program

PUPP JUSTIFICATION
COMPONENTS OF A PUPP
ESTABLISHING A BEST PRACTICE BUNDLE
CREATING INFRASTRUCTURE TO SUSTAIN THE PUPP
SUMMARY
REFERENCES

CHAPTER 9: Support Surfaces

INTERFACE TISSUE PRESSURES: PAST AND PRESENT
PHYSICAL CONCEPTS AND THERAPEUTIC FUNCTIONS
COMPONENTS
CATEGORIES AND FEATURES
SUPPORT SURFACE SELECTION CRITERIA
SUMMARY
REFERENCES
SECTION III Lower Extremity Wounds
CHAPTER 10: Lower Extremity Assessment

GENERAL APPEARANCE OF THE LIMB
FUNCTIONAL–SENSORY STATUS
PERFUSION
DIAGNOSTIC TESTING
SUMMARY
REFERENCES

CHAPTER 11: Arterial Ulcers

EPIDEMIOLOGY
ETIOLOGY
RISK FACTORS FOR LEAD
PATHOLOGY OF ARTERIAL ULCERATION
ASSESSMENT
NONINVASIVE TESTING FOR LEAD
INVASIVE TESTING FOR LEAD
MANAGEMENT OF THE PATIENT WITH ARTERIAL ULCERATION
PATIENT EDUCATION
SUMMARY
REFERENCES

CHAPTER 12: Venous Ulcers

EPIDEMIOLOGY
VENOUS STRUCTURE AND FUNCTION
CHRONIC VENOUS INSUFFICIENCY
ASSESSMENT
MANAGEMENT
COMPRESSION THERAPY
COMPRESSION WRAPS
COMPRESSION GARMENTS
INTERMITTENT PNEUMATIC COMPRESSION (IPC)
LOCAL WOUND CARE
SURGICAL INTERVENTIONS
FOLLOW-UP AND LIFELONG MAINTENANCE
REFERENCES

CHAPTER 13: Lymphedema

EPIDEMIOLOGY
PATHOPHYSIOLOGY
TYPES OF LYMPHEDEMA
STAGES OF LYMPHEDEMA
LIPEDEMA
DIAGNOSTIC TESTS
ASSESSMENT
PREVENTION
MANAGEMENT
COMPLICATIONS
SUMMARY
REFERENCES

CHAPTER 14: Neuropathic Wounds: The Diabetic Wound

EPIDEMIOLOGY
PATHOGENESIS
ASSESSMENT
MANAGEMENT
SUMMARY
REFERENCES

CHAPTER 15: Foot and Nail Care

QUALITY OF LIFE
STRUCTURE AND FUNCTION
PHYSICAL ASSESSMENT
PREVENTION AND ROUTINE MANAGEMENT
MANAGEMENT OF SPECIFIC CONDITIONS
REFERENCES
SECTION IV Wound Bed Preparation
CHAPTER 16: Wound Infection: Diagnosis and Management

CONTINUUM OF BACTERIAL BIOBURDEN
EVALUATION
SUMMARY
REFERENCES

CHAPTER 17: Wound Debridement

DEFINITION AND PURPOSE
METHODS OF DEBRIDEMENT
SELECTION OF DEBRIDEMENT METHOD
PROGRESSION AND MAINTENANCE OF DEBRIDEMENT
SUMMARY
REFERENCES

CHAPTER 18: Topical Management

PRINCIPLES OF WOUND MANAGEMENT
TYPES OF DRESSINGS
COMPONENTS OF A DRESSING CHANGE
DRESSING SELECTION
DOCUMENTATION AND REIMBURSEMENT
SUMMARY
REFERENCES
SECTION V Biophysical and Biologic Agents
CHAPTER 19: Skin Substitutes and Extracellular Matrix Scaffolds

CLASSIFICATION OF PRODUCTS
CELLULAR PRODUCTS
ACELLULAR PRODUCTS
SUMMARY
REFERENCES

CHAPTER 20: Molecular and Cellular Regulators

BIOLOGIC ROLES OF CYTOKINES AND GROWTH FACTORS
ADHESION MOLECULES AND ADHESION RECEPTORS IN INFLAMMATION
CYTOKINES
GROWTH FACTORS
MAJOR FAMILIES OF GROWTH FACTORS
INTEGRATING GROWTH FACTORS INTO CLINICAL PRACTICE
SUMMARY
REFERENCES

CHAPTER 21: Negative Pressure Wound Therapy

MECHANISM OF ACTION
INDICATIONS AND USES
CONTRAINDICATIONS AND PRECAUTIONS
CLINICAL APPLICATIONS
SUMMARY
REFERENCES

CHAPTER 22: Hyperbaric Oxygenation

HISTORY
PHYSIOLOGIC EFFECTS
INDICATIONS
CONTRAINDICATIONS
PROTOCOLS AND CLINICAL APPLICATION
TOPICAL OXYGEN IS NOT HBO
SUMMARY
REFERENCES

CHAPTER 23: Electrical Stimulation

EFFECTS OF ELECTRICAL STIMULATION
INDICATIONS AND CONTRAINDICATIONS
TYPES OF ELECTRICAL STIMULATION
PAYMENT COVERAGE
SUMMARY
REFERENCES

CHAPTER 24: Ultraviolet Light and Ultrasound

ULTRAVIOLET LIGHT
ULTRASOUND
SUMMARY
REFERENCES
SECTION VI Critical Cofactors
CHAPTER 25: Wound Pain: Impact and Assessment

PERCEPTIONS ABOUT PAIN
CONSEQUENCES OF WOUND PAIN
PAIN PHYSIOLOGY
CLASSIFICATIONS
ASSESSMENT
WOUND PAIN CARE MODELS
SUMMARY
REFERENCES

CHAPTER 26: Managing Wound Pain

NONPHARMACOLOGIC PAIN CONTROL
PHARMACOLOGIC INTERVENTIONS
SUMMARY
REFERENCES

CHAPTER 27: Nutritional Assessment and Support

MALNUTRITION
SCREENING AND ASSESSMENT
NUTRIENT NEEDS FOR HEALING
NUTRITIONAL SUPPORT
SUMMARY
REFERENCES

CHAPTER 28: Perfusion and Oxygenation

IMPACT OF OXYGEN AND PERFUSION IN WOUND HEALING
FACTORS THAT ALTER PERFUSION AND OXYGENATION
INTERVENTIONS TO IMPROVE PERFUSION AND OXYGEN
MEASURING THE RESPONSE
SUMMARY
REFERENCES

CHAPTER 29: Noncompliance, Nonadherence, or Barriers to a Sustainable Plan?

SIGNIFICANCE
BARRIERS TO A SUSTAINABLE WOUND MANAGEMENT PLAN
SUMMARY
REFERENCES
SECTION VII Acute and Traumatic Wounds
CHAPTER 30: Intrinsic Diseases and Uncommon Cutaneous Wounds

INFECTIOUS ETIOLOGY
SPIDER BITES
PYODERMA GANGRENOSUM
VASCULITIS AND CONNECTIVE TISSUE DISORDERS
EPIDERMOLYSIS BULLOSA
CALCIPHYLAXIS
EXTRAVASATION
IMMUNE REACTIONS
FROSTBITE
PRIMARY MALIGNANT AND MALIGNANT TRANSFORMATION WOUNDS (MARJOLIN ULCER)
BLOOD DYSCRASIAS
SUMMARY
REFERENCES

CHAPTER 31: Traumatic Wounds: Bullets, Blasts, and Vehicle Crashes

ETIOLOGY OF WAR WOUNDS
ACUTE MANAGEMENT OF TRAUMATIC WOUNDS
SUBACUTE MANAGEMENT OF TRAUMATIC WOUNDS
SUMMARY
REFERENCES

CHAPTER 32: Burns

EPIDEMIOLOGY
TYPES OF BURN INJURY
EVALUATION OF BURN INJURY
PATHOPHYSIOLOGY OF BURN INJURY ON THE BODY
PHASES OF BURN CARE
OUTPATIENT BURN MANAGEMENT
SUMMARY
REFERENCES

CHAPTER 33: Reconstructive Surgery

HISTORY OF SURGERY FOR WOUNDS
SURGICAL DECISION MAKING
SELECTION OF WOUND CLOSURE METHOD
NONOPERATIVE CONDITIONS
URGENT OPERATIVE CONDITIONS
PREOPERATIVE MANAGEMENT
OPERATIVE MANAGEMENT
POSTOPERATIVE MANAGEMENT
SUMMARY
REFERENCES

CHAPTER 34: Surgical Wounds and Incision Care

SURGICAL WOUND CLOSURE
SURGICAL WOUND ASSESSMENT
TOPICAL INCISION CARE
SUMMARY
REFERENCES
SECTION VIII Special Patient Populations
CHAPTER 35: Skin Care Needs of the Obese Patient

DEFINING OBESITY
ALTERED SKIN FUNCTION
UNIQUE NEEDS
Skin Fold Management
THE SURGICAL EXPERIENCE
NUTRITIONAL CONSIDERATIONS
QUALITY IMPROVEMENT
SUMMARY
REFERENCES

CHAPTER 36: Skin Care Needs of the Pediatric and Neonatal Patient

PART I: THE PEDIATRIC PATIENT
PART II: THE NEONATE

CHAPTER 37: Managing Wounds in Palliative Care

DEFINITION OF TERMS
PALLIATIVE WOUND CARE
NONMALIGNANCY-RELATED WOUNDS
MALIGNANCY-RELATED WOUNDS
OBJECTIVES IN THE CARE OF THE MALIGNANT CUTANEOUS WOUND
EVALUATION
SUMMARY
REFERENCES

CHAPTER 38: Management of Draining Wounds and Fistulas

EPIDEMIOLOGY AND ETIOLOGY
TERMINOLOGY
MANIFESTATIONS
MEDICAL MANAGEMENT
NURSING MANAGEMENT
SUMMARY
REFERENCES

CHAPTER 39: Percutaneous Tube Management

GASTROSTOMY AND JEJUNOSTOMY DEVICES
PLACEMENT APPROACHES
FEEDING TUBE FEATURES
LOW-PROFILE GASTROSTOMY DEVICE (BUTTON)
NURSING MANAGEMENT OF ENTERIC TUBES
COMPLICATIONS
TUBE REMOVAL
PATIENT EDUCATION
MISCELLANEOUS DRAIN TUBES
SUMMARY
REFERENCES
Color Plates
Self-Assessment Exercises
Documentation Tools
Infrastructure Support Examples: Policies, Procedures, Protocols, and Decision-Making Tools
GLOSSARY
Topics within this title:
at risk
Burn
Burns
Dermatitis
Diabetic Foot
Diabetic Foot Ulcer
Edema
Fistulas
Foot Ulcer
Frostbite
Hyperbaric Oxygenation
Lymphedema
Malnutrition
Overnutrition
Pain
Pressure Ulcer
Pressure Ulcers
Pyoderma
Pyoderma Gangrenosum
Stress
Temperature
Ulcer
Ulcers
Undernutrition
Venous Insufficiency
Venous Ulcers
Wound Infection