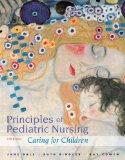 Author: Jane Ball, RN, CPNP, DrPH, Ruth Bindler, RNC, PhD, Kay Cowen, RNC, MSN
Affiliation: EMSC National Resource Center
Publisher: Pearson Health Science
Publication Date: 2012
ISBN 10: 0132111756
ISBN 13: 9780132111751
Edition: 5th

Description:
Written for today's nurse, PRINCIPLES OF PEDIATRIC NURSING: CARING FOR CHILDREN, 5/e explores the conditions and nursing interventions for health conditions affecting children, adolescents and their families. Emphasizing research and evidence-based practice, it organizes material by body system instead of developmental stage, allowing faculty to teach pediatrics in integrated courses/short courses without redundancy. KEY FEATURES: This edition includes a new chapter on genetic and genomic influences, more emphasis on culturally competent care, and new features that emphasize clinical reasoning and health promotion. Designed to help students bridge the gap between classroom and clinical situations, the book emphasizes health promotion and maintenance, growth and development, and family-centered care.
Related Titles