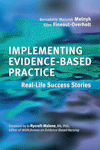 Author: Bernadette Melnyk, PhD, RN, CPNP/PMHNP, FNAP, FAAN, Ellen Overholt, PhD, RN, FNAP, FAAN
Affiliation: Arizona State University College of Nursing and Health Innovation
Publisher: Sigma Theta Tau International
Publication Date: 2011
ISBN 10: 1935476688
ISBN 13: 9781935476689
eISBN: 9781935476696
Edition: 1st

Description:
A book for staff nurses about evidence-based practice — one of the most important movements in health care in the 21st Century. The 90 stories are written by staff nurses in health-care facilities across the country. Contains true stories of how nurses are using EBP to improve care for their patients. The stories were compiled by two of the leading nurse experts in EBP: Bernadettte Mazurek Melnyk and Ellen Fineout-Overholt from Arizona State University. A useful supplement to EBP textbooks.
Related Titles