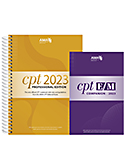 Author: Mark Synovec, MD, Christopher Jagmin, MD, FAAFP, Zach Hochstetler, MPP, MBA, CPC, Linda Barney, MD, FACS, Aaron Bossler, MD, PhD, Daniel Buffington, PharmD, MBA, Samuel Church, MD, Richard Frank, MD, PhD, Michael Idowu, MD, MPH, David Kanter, MD, MBA, CPC, FAAP, Barbara Levy, MD, FACOG, Janet McCauley, MD, MHA, CPC, FACOG, JoEllyn Moore, MD, FACC, FHRS, Douglas Morrow, OD, Daniel Nagle, MD, FACS, FAAOS, Judith O'Connell, DO, MHA, FAAO, Robert Piana, MD, FACC, Daniel Picus, MD, FACR, RCC, Jordan Pritzker, MD, MBA, FACOG, Lawrence Simon, MD, MBA, FACS, Timothy Swan, MD, FACR, FSIR, Kevin Vorenkamp, MD, FASA, Gloria Wilder, MD, MPH
Affiliation:
Publisher: American Medical Association
Publication Date: 2023
ISBN 10: 1640162135
ISBN 13: 9781640162136
eISBN: 9781640162150
Edition: 1st

Description:
CPT 2023 Professional Edition is the definitive AMA-authored resource to help healthcare professionals correctly report and bill medical procedures and services. Healthcare professionals want accurate reimbursement. Payers want efficient claims processing. Correct reporting and billing of medical procedures and services begins with CPT 2023 Professional Edition. Only the AMA, with the help of physicians and other experts in the healthcare community, creates and maintains the CPT code set. No other codebook has the accurate, complete official guidelines for the latest and current procedural terminology for procedures and services to help you code medical services and procedures properly. The AMA also takes the copyright protection of its content very seriously and is committed to providing the most effective anti- piracy efforts for its authors and readers. To help combat print piracy, protect our intellectual properties, and ensure our customers' right to authentic AMA-certified content, the CPT 2023 Professional Edition is equipped with nonintrusive light-yellow dots on almost every page of the codebook. As a result of the implementation of this anti-piracy technology, this codebook cannot be reproduced by photocopy or scan in accordance with current copyright rules and laws.
Related Titles