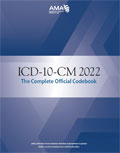 Author: AMA
Affiliation:
Publisher: American Medical Association
Publication Date: 2021
ISBN 10: 1640161554
ISBN 13: 9781640161559
eISBN: 9781640161566
Edition: 1st

Description:
ICD-10-CM 2022: The Complete Official Codebook provides the entire updated code set for diagnostic coding, organized to make the challenge of accurate coding easier. This codebook is the cornerstone for establishing medical necessity, correct documentation, determining coverage and ensuring appropriate reimbursement. Each of the 22 chapters in the Tabular List of Diseases and Injuries is organized to provide quick and simple navigation to facilitate accurate coding. The book also contains supplementary appendixes including a coding tutorial, pharmacology listings, a list of valid three-character codes and additional information on Z-codes for long-term drug use and Z-codes that can only be used as a principal diagnosis. Official 2022 coding guidelines are included in this codebook.
Related Titles