CPT Coding Essentials for Anesthesia and Pain Management 2021 This title has been archived.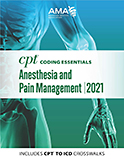 Author: AMA
Affiliation: AMA
Publisher: American Medical Association
Publication Date: 2020
ISBN 10: 1640160612
ISBN 13: 9781640160613
eISBN: 9781640160712
Edition: 1st

Description:
Optimized for medical necessity and reimbursement understanding, this all-in-one resource focuses on the most important CPT and HCPCS codes for anesthesiology and pain management, plus medicine and ancillary services codes chosen by experts who have taken into consideration utilization, denial risk and complexity. CPT Coding Essentials optimizes both CPT and ICD-10 code selection with helpful CPT-to-ICD-10-CM crosswalks and detailed explanations of anatomy, physiology and documentation. Other than the AMA CPT Professional Edition codebook, this is the only book in the market with verbatim CPT-panel-approved guidelines and parenthetical information specific to anesthesiology and pain management. This is the ideal daily companion featuring useful, definitive specialty-specific coding information beyond what is provided in a full procedural codebook.
Related Titles