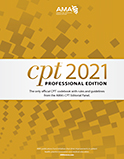 Author: Mark Synovec, MD, Christopher Jagmin, MD, FAAFP, Zach Hochstetler, MPP, MBA, CPC, Linda Barney, MD, FACS, Daniel Buffington, PharmD, MBA, Leslie Davidson, PhD, OTR/L, FAOTA, Edith Hambrick, MD, JD, MPH, David Kanter, MD, MBA, CPC, Barbara Levy, MD, Douglas Morrow, OD, Daniel Nagle, MD, FACS, FAAOS, Jan Nowak, MD, PhD, Judith O'Connell, DO, MHA, FAAO, Robert Piana, MD, FACC, Daniel Picus, MD, FACR, RCC, Jordan Pritzker, MD, MBA, FACOG, Lawrence Simon, MD, FAAP, FACS, FAAOA, Kevin Vorenkamp, MD, Gloria Wilder, MD, MPH
Affiliation:
Publisher: American Medical Association
Publication Date: 2020
ISBN 10: 1640160493
ISBN 13: 9781640160491
eISBN: 9781640160507
Edition: 1st

Description:
The official CPT guidelines at your fingertips Providers want accurate reimbursement. Payers want efficient claims processing. Since the CPT code set is a dynamic, ever-changing standard, an outdated codebook does not suffice. Correct reporting and billing of medical procedures and services begins with CPTr 2021 Professional Edition. Only the AMA, with the help of physicians and other experts in the health care community, creates and maintains the CPT code set. No other publisher can claim that. No other codebook can provide the official guidelines to code medical services and procedures properly.
Related Titles