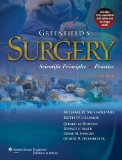 Author: Michael Mulholland, MD, PhD, Keith Lillemoe, MD, Gerard Doherty, MD, Ronald Maier, MD, Diane Simeone, MD, Gilbert Upchurch Jr., MD
Affiliation: University of Michigan, Ann Arbor
Publisher: Lippincott Williams & Wilkins
Publication Date: 2011
ISBN 10: 1605473553
ISBN 13: 9781605473550
eISBN: 9781469867205
Edition: 5th

Description:
The Fifth Edition of Greenfield's Surgery has been thoroughly revised, updated, and refocused to conform to changes in surgical education and practice. Reflecting the increasingly clinical emphasis of residency programs, this edition features expanded coverage of clinical material and increased use of clinical algorithms. Key Points, open each chapter, and icons in the text indicate where Key Points are fully discussed. Many of the black-and-white images from the previous edition have been replaced by full-color images. This edition has new chapters on quality assessment, surgical education, and surgical processes in the hospital. Coverage of surgical subspecialty areas is more sharply focused on topics that are encountered by general surgeons and included in the current general surgery curriculum and ABSITE exam. The vascular section has been further consolidated. A new editor, Diane Simeone, MD, PhD, has joined the editorial team. This edition is available either in one hardbound volume or in a four-volume softbound set. The lightweight four-volume option offers easy portability and quick access.
Related Titles