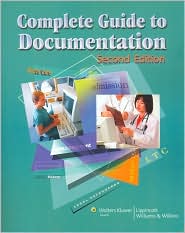 Author: LWW
Affiliation:
Publisher: Lippincott Williams & Wilkins
Publication Date: 2008
ISBN 10: 1582555567
ISBN 13: 9781582555560
eISBN: 9781469865645
Edition: 2nd

Description:
Thoroughly updated for its Second Edition, this comprehensive reference provides clear, practical guidelines on documenting patient care in all nursing practice settings, the leading clinical specialties, and current documentation systems. This edition features greatly expanded coverage of computerized charting and electronic medical records (EMRs), complete guidelines for documenting JCAHO safety goals, and new information on charting pain management. Hundreds of filled-in sample forms show specific content and wording. Icons highlight tips and timesavers, critical case law and legal safeguards, and advice for special situations. Appendices include NANDA taxonomy, JCAHO documentation standards, and documenting outcomes and interventions for key nursing diagnoses.
Related Titles