Nursing Documentation Made Incredibly Easy!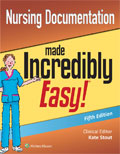 Author: LWW
Affiliation:
Publisher: Lippincott Williams & Wilkins
Publication Date: 2019
ISBN 10: 1496394739
ISBN 13: 9781496394736
eISBN: 9781496394743
Edition: 5th

Description:
Packed with colorful images and clear-as-day guidance, this friendly reference guides you through meeting documentation requirements, working with electronic medical records systems, complying with legal requirements, following care planning guidelines, and more. Whether you are a nursing student or a new or experienced nurse, this on-the-spot study and clinical guide is your ticket to ensuring your charting is timely, accurate, and watertight.
Related Titles