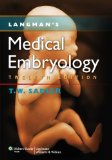 Author: T. Sadler, Ph.D.
Affiliation: University of Utah
Publisher: Lippincott Williams & Wilkins
Publication Date: 2012
ISBN 10: 1451113420
ISBN 13: 9781451113426
eISBN: 9781469870526
Edition: 12th

Description:
angman's Medical Embryology covers embryology for medical, nursing, and health professions students with a strong clinical emphasis. The text is highly valued as a teaching and learning resource for its clinical correlation boxes, summaries, problems to solve, illustrations and clinical images, and clear, concise writing style—all of which make the subject matter accessible to students and relevant to instructors.
Related Titles