Before We Are Born
Essentials of Embryology and Birth Defects
This title has been archived.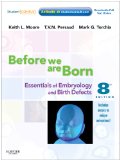 Table of Contents Available
This title has been archived.
Author: Keith Moore, MSc, PhD, FIAC, FRSM, FAAA, T. Persaud, MD, PhD, DSc, FRCPath (Lond.), FAAA, Mark Torchia, MSc, PhD
Affiliation: University of Toronto, Canada
Publisher: Elsevier Health Sciences
Publication Date: 2013
ISBN 10: 1437720013
ISBN 13: 9781437720013
eISBN: 9781455707508
Edition: 8th
Description:
Before We Are Born: Essentials of Embryology and Birth Defects, by Drs. Keith L. Moore, T.V.N. Persaud, and Mark G. Torchia, allows you to efficiently and quickly assimilate the most important concepts related to this subject. Concise and richly illustrated, this popular book delivers the embryology knowledge you need in a highly efficient, reader-friendly manner. Elsevier does not offer Student Consult access to institutional subscribers.
Table of Contents
Front Matter
ABOUT
Preface
Notices
DEDICATION
Contributors
Preface
Acknowledgments
CHAPTER 1: Introduction to Human Development
IMPORTANCE OF AND ADVANCES IN EMBRYOLOGY
DESCRIPTIVE TERMS
CLINICALLY ORIENTED QUESTIONS
CHAPTER 2: Human Reproduction
REPRODUCTIVE ORGANS
GAMETOGENESIS
FEMALE REPRODUCTIVE CYCLES
TRANSPORTATION OF GAMETES
MATURATION OF SPERMS
VIABILITY OF OOCYTES AND SPERMS
CLINICALLY ORIENTED QUESTIONS
CHAPTER 3: First Week of Development
FERTILIZATION
CLEAVAGE OF ZYGOTE
FORMATION OF BLASTOCYST
CLINICALLY ORIENTED QUESTIONS
CHAPTER 4: Second Week of Development
FORMATION OF AMNIOTIC CAVITY AND EMBRYONIC DISC
DEVELOPMENT OF CHORIONIC SAC
CLINICALLY ORIENTED QUESTIONS
CHAPTER 5: Third Week of Development
GASTRULATION: FORMATION OF GERM LAYERS
NEURULATION: FORMATION OF THE NEURAL TUBE
DEVELOPMENT OF SOMITES
DEVELOPMENT OF INTRAEMBRYONIC COELOM
EARLY DEVELOPMENT OF CARDIOVASCULAR SYSTEM
DEVELOPMENT OF CHORIONIC VILLI
CLINICALLY ORIENTED QUESTIONS
CHAPTER 6: Development During Weeks Four to Eight
FOLDING OF EMBRYO
GERM LAYER DERIVATIVES
CONTROL OF EMBRYONIC DEVELOPMENT
ESTIMATION OF EMBRYONIC AGE
HIGHLIGHTS OF DEVELOPMENT DURING WEEKS FOUR TO EIGHT
CLINICALLY ORIENTED QUESTIONS
CHAPTER 7: Fetal Period: The Ninth Week to Birth
HIGHLIGHTS OF FETAL PERIOD
FACTORS INFLUENCING FETAL GROWTH
PROCEDURES FOR ASSESSING FETAL STATUS
CLINICALLY ORIENTED QUESTIONS
CHAPTER 8: Placenta and Fetal Membranes
PLACENTA
PARTURITION
AMNION AND AMNIOTIC FLUID
UMBILICAL VESICLE
ALLANTOIS
FETAL MEMBRANES IN MULTIPLE PREGNANCIES
CLINICALLY ORIENTED QUESTIONS
CHAPTER 9: Body Cavities, Mesenteries, and Diaphragm
EMBRYONIC BODY CAVITY
DEVELOPMENT OF DIAPHRAGM
CLINICALLY ORIENTED QUESTIONS
CHAPTER 10: Pharyngeal Apparatus
PHARYNGEAL ARCHES
PHARYNGEAL POUCHES
PHARYNGEAL GROOVES
PHARYNGEAL MEMBRANES
DEVELOPMENT OF THYROID GLAND
DEVELOPMENT OF TONGUE
DEVELOPMENT OF SALIVARY GLANDS
DEVELOPMENT OF THE FACE
DEVELOPMENT OF NASAL CAVITIES
DEVELOPMENT OF PALATE
CLINICALLY ORIENTED QUESTIONS
CHAPTER 11: Respiratory System
DEVELOPMENT OF LARYNX
DEVELOPMENT OF TRACHEA
DEVELOPMENT OF BRONCHI AND LUNGS
CLINICALLY ORIENTED QUESTIONS
CHAPTER 12: Alimentary System
FOREGUT
DEVELOPMENT OF SPLEEN
MIDGUT
HINDGUT
CLINICALLY ORIENTED QUESTIONS
CHAPTER 13: Urogenital System
DEVELOPMENT OF URINARY SYSTEM
DEVELOPMENT OF SUPRARENAL GLANDS
DEVELOPMENT OF GENITAL SYSTEM
DEVELOPMENT OF INGUINAL CANALS
CLINICALLY ORIENTED QUESTIONS
CHAPTER 14: Cardiovascular System
EARLY DEVELOPMENT OF THE HEART AND BLOOD VESSELS
LATER DEVELOPMENT OF THE HEART
BIRTH DEFECTS OF THE HEART AND GREAT VESSELS
DERIVATIVES OF PHARYNGEAL ARCH ARTERIES
PHARYNGEAL ARCH ARTERY ANOMALIES
FETAL AND NEONATAL CIRCULATION
DEVELOPMENT OF THE LYMPHATIC SYSTEM
CLINICALLY ORIENTED QUESTIONS
CHAPTER 15: Musculoskeletal System
SKELETAL SYSTEM
DEVELOPMENT OF CARTILAGE AND BONE
DEVELOPMENT OF JOINTS
DEVELOPMENT OF AXIAL SKELETON
DEVELOPMENT OF APPENDICULAR SKELETON
MUSCULAR SYSTEM
DEVELOPMENT OF LIMBS
CLINICALLY ORIENTED QUESTIONS
CHAPTER 16: Nervous System
ORIGIN OF NERVOUS SYSTEM
DEVELOPMENT OF SPINAL CORD
BIRTH DEFECTS OF SPINAL CORD
DEVELOPMENT OF BRAIN
CONGENITAL ANOMALIES OF BRAIN
DEVELOPMENT OF PERIPHERAL NERVOUS SYSTEM
DEVELOPMENT OF AUTONOMIC NERVOUS SYSTEM
CLINICALLY ORIENTED QUESTIONS
CHAPTER 17: Eyes and Ears
DEVELOPMENT OF EYES AND RELATED STRUCTURES
DEVELOPMENT OF EARS
CLINICALLY ORIENTED QUESTIONS
CHAPTER 18: Integumentary System
DEVELOPMENT OF SKIN
DEVELOPMENT OF HAIRS
DEVELOPMENT OF NAILS
DEVELOPMENT OF MAMMARY GLANDS
DEVELOPMENT OF TEETH
CLINICALLY ORIENTED QUESTIONS
CHAPTER 19: Human Birth Defects
TERATOLOGY: STUDY OF ABNORMAL DEVELOPMENT
BIRTH DEFECTS CAUSED BY GENETIC FACTORS
BIRTH DEFECTS CAUSED BY ENVIRONMENTAL FACTORS
BIRTH DEFECTS CAUSED BY MULTIFACTORIAL INHERITANCE
CLINICALLY ORIENTED QUESTIONS
CHAPTER 20: The Cellular and Molecular Basis of Development
INTERCELLULAR COMMUNICATION
MORPHOGENS
RECEPTOR TYROSINE KINASES
NOTCH–DELTA PATHWAY
TRANSCRIPTION FACTORS
EPIGENETICS
SUMMARY OF COMMON SIGNALING PATHWAYS USED DURING DEVELOPMENT
References and Suggested Reading
CHAPTER 1
CHAPTER 2
CHAPTER 3
CHAPTER 4
CHAPTER 5
CHAPTER 6
CHAPTER 7
CHAPTER 8
CHAPTER 9
CHAPTER 10
CHAPTER 11
CHAPTER 12
CHAPTER 13
CHAPTER 14
CHAPTER 15
CHAPTER 16
CHAPTER 17
CHAPTER 18
CHAPTER 19
CHAPTER 20
Answers to Clinically Oriented Questions
CHAPTER 1
CHAPTER 2
CHAPTER 3
CHAPTER 4
CHAPTER 5
CHAPTER 6
CHAPTER 7
CHAPTER 8
CHAPTER 9
CHAPTER 10
CHAPTER 11
CHAPTER 12
CHAPTER 13
CHAPTER 14
CHAPTER 15
CHAPTER 16
CHAPTER 17
CHAPTER 18
CHAPTER 19
Topics within this title:
Abnormalities
amniocentesis
Birth Defects
Chromosomal Abnormalities
Cranium
environmental factors
Trisomy