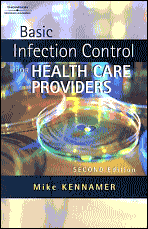 Author: Mike Kennamer, MPA, EMT-P
Affiliation: Northeast Alabama Community College, Rainsville
Publisher: Delmar Cengage Learning
Publication Date: 2007
ISBN 10: 141801978X
ISBN 13: 9781418019785
eISBN: 9781111797683
Edition: 2nd

Description:
Basic Infection Control for Health Care Providers, Second Edition, is a clear and concise guide to preventing occupational exposure hazards and communicable and infectious diseases. This book includes coverage on how to safely protect oneself from infectious agents and what do in case of infectious exposure. Discussions of the disease process and legal issues surrounding exposure and infectious diseases provide context for the material. The blend of fundamental infection control content and reference resources makes this tool perfect for use in an instructional setting or as a reference for practicing health care providers.
Related Titles