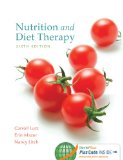 Author: Carroll Lutz, MA, RN, Erin Mazur, MSN, RN, FNP-BC, Nancy Litch, MS, RD
Affiliation: Jackson College
Publisher: F.A. Davis Company
Publication Date: 2015
ISBN 10: 0803637187
ISBN 13: 9780803637184
eISBN: 9780803643901
Edition: 6th

Description:
Meet the ever-changing demands of providing quality nutritional care for patients across the lifespan. This popular text provides a strong foundation in the science of nutrition and a clear understanding of how to apply that knowledge in practice, recognizing the need for nurses to work with other healthcare professionals to ensure optimal nutrition in patient care. Thoroughly updated and revised, it combines nursing care with the nutritional information pertinent to today's classroom and clinical practice settings.
Related Titles