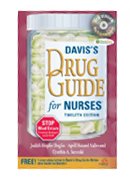 Table of Contents Available
This title has been archived.
Author: Judith Deglin, PharmD, April Vallerand, PhD, RN, FAAN, Cynthia Sanoski, BS, PharmD, FCCP, BCPS
Affiliation: Hospice of Southern Connecticut; Uncasville, CT
Publisher: F.A. Davis Company
Publication Date: 2011
ISBN 10: 0803623089
ISBN 13: 9780803623088
Edition: 12th
Description:
Safety 1st The information nurses need.when, where, and how they need it!Today's most comprehensive nursing drug guide emphasizes safety 1st!Davis's Drug Guide for Nurses, Twelfth Edition always puts safety first.emphasizing the information nurses need to know to administer medications competently and safely.across the lifespan. Well-organized monographs for hundreds of generic and thousands of trade name drugs reflect the latest FDA approvals and changes.
Table of Contents
Front Matter
ABOUT
DEDICATION
ACKNOWLEDGMENTS
CONSULTANTS
F. A. DAVIS PHARMACOLOGIC PUBLICATIONS ADVISORY BOARD
Measurement Conversion Table
HOW TO USE DAVIS'S DRUG GUIDE FOR NURSES
Safe Medication Use Articles
Classifications Profile
Medication Safety Tools
Drug Monographs
EVIDENCE-BASED PRACTICE AND PHARMACOTHERAPEUTICS: Implications for Nurses
Evidence-Based Practice and Its Importance in Pharmacology
REFERENCES
PHARMACOGENOMICS
Introduction
Genetic Variation within the Human Genome
Clinical Significance of Genetic Polymorphisms
Incorporating Pharmacogenomic Information into Clinical Practice
Pertinent Resources:
MEDICATION ERRORS: Improving Practices and Patient Safety
High Alert Medications
Causes of Medication Errors
Prevention Strategies
REFERENCES
DETECTING AND MANAGING ADVERSE DRUG REACTIONS
Types of ADRs
Recognizing an ADR
Prevention
Food and Drug Administration MedWatch Program
REFERENCES
OVERVIEW OF RISK EVALUATION AND MITIGATION SYSTEMS (REMS)
SPECIAL DOSING CONSIDERATIONS
The Pediatric Patient
The Geriatric Patient
The Patient of Reproductive Age
Renal Disease
Liver Disease
Heart Failure
Body Size
Drug Interactions
EDUCATING PATIENTS ABOUT SAFE MEDICATION USE
CLASSIFICATIONS
ANTI-ALZHEIMER'S AGENTS
ANTIANEMICS
ANTIANGINALS
ANTIANXIETY AGENTS
ANTIARRHYTHMICS
ANTIASTHMATICS
ANTICHOLINERGICS
ANTICOAGULANTS
ANTICONVULSANTS
ANTIDEPRESSANTS
ANTIDIABETICS
ANTIDIARRHEALS
ANTIEMETICS
ANTIFUNGALS
ANTIHISTAMINES
ANTIHYPERTENSIVES
ANTI-INFECTIVES
ANTINEOPLASTICS
ANTIPARKINSON AGENTS
ANTIPLATELET AGENTS
ANTIPSYCHOTICS
ANTIPYRETICS
ANTIRETROVIRALS
ANTIRHEUMATICS
ANTITUBERCULARS
ANTIULCER AGENTS
ANTIVIRALS
BETA BLOCKERS
BONE RESORPTION INHIBITORS
BRONCHODILATORS
CALCIUM CHANNEL BLOCKERS
CENTRAL NERVOUS SYSTEM STIMULANTS
CORTICOSTEROIDS
DIURETICS
HORMONES
IMMUNOSUPPRESSANTS
LAXATIVES
LIPID-LOWERING AGENTS
MINERALS/ELECTROLYTES/pH MODIFIERS
NATURAL/HERBAL PRODUCTS
NONOPIOID ANALGESICS
NONSTEROIDAL ANTI-INFLAMMATORY AGENTS
OPIOID ANALGESICS
SEDATIVE/HYPNOTICS
SKELETAL MUSCLE RELAXANTS
THROMBOLYTICS
VACCINES/IMMUNIZING AGENTS
VASCULAR HEADACHE SUPPRESSANTS
VITAMINS
WEIGHT CONTROL AGENTS
A
abacavir (ah-back-ah-veer)
acarbose (aye-kar-bose)
acetaminophen (a-seet-a-min-oh-fen)
acetaZOLAMIDE (a-seet-a-zole-a-mide)
acetylcysteine (a-se-teel-sis-teen)
acyclovir (ay-sye-kloe-veer)
adalimumab (a-da-li-mu-mab)
adenosine (a-den-oh-seen)
albumin (human) (al-byoo-min)
albuterol (al-byoo-ter-ole)
alclometasone
alemtuzumab (a-lem-too-zoo-mab)
alendronate (a-len-drone-ate)
alfuzosin (al-fyoo-zo-sin)
aliskiren (a-lis-ki-ren)
allopurinol (al-oh-pure-i-nole)
almotriptan (al-moe-trip-tan)
alprazolam (al-pray-zoe-lam)
alteplase
aluminum hydroxide
amcinonide
amifostine (a-mi-fos-teen)
amikacin
amiloride
aminocaproic acid (a-mee-noe-ka-pro-ik)
AMINOGLYCOSIDES
aminophylline
amiodarone (am-ee-oh-da-rone)
amitriptyline (a-mee-trip-ti-leen)
amlodipine (am-loe-di-peen)
amoxicillin (a-mox-i-sil-in)
amoxicillin/clavulanate (a-mox-i-sill-in/klav-yoo-lan-ate)
amphetamine mixtures (am-fet-a-meen)
amphotericin B deoxycholate (am-foe-ter-i-sin)
ampicillin (am-pi-sil-in)
ampicillin/sulbactam (am-pi-sil-in/sul-bak-tam)
anakinra (a-na-kin-ra)
anastrozole (a-nass-troe-zole)
ANGIOTENSIN-CONVERTING ENZYME (ACE) INHIBITORS
ANGIOTENSIN II RECEPTOR ANTAGONISTS
anidulafungin (a-ni-du-la-fun-gin)
ANTIFUNGALS (TOPICAL)
ANTIFUNGALS (VAGINAL)
aprepitant (a-prep-i-tant)
argatroban (ar-gat-tro-ban)
aripiprazole (a-ri-pip-ra-zole)
asenapine (a-sen-a-peen)
asparaginase (a-spare-a-ji-nase)
aspirin
atazanavir (a-ta-zan-a-veer)
atenolol (a-ten-oh-lole)
atomoxetine (a-to-mox-e-teen)
atorvastatin
atovaquone (a-toe-va-kwone)
atropine (at-ro-peen)
azacitidine (a-za-sye-ti-deen)
azathioprine (ay-za-thye-oh-preen)
azithromycin (aye-zith-roe-mye-sin)
B
baclofen (bak-loe-fen)
basiliximab (ba-sil-ix-i-mab)
becaplermin (be-kap-lerm-in)
beclomethasone
beclomethasone
benazepril
bendamustine (ben-da-muss-teen)
benzathine penicillin G
benztropine (benz-troe-peen)
betamethasone
betamethasone
bevacizumab (be-va-kiz-oo-mab)
bicalutamide (bye-ka-loot-a-mide)
bimatoprost (lash, ophthalmic) (bi-mat-o-prost)
bisacodyl (bis-a-koe-dill)
bismuth subsalicylate (biz-muth sub-sa-lis-i-late)
bisoprolol (bis-oh-proe-lol)
bivalirudin (bi-val-i-roo-din)
bleomycin (blee-oh-mye-sin)
bortezomib (bor-tez-o-mib)
BRONCHODILATORS (XANTHINES)
budesonide
budesonide
budesonide
bumetanide (byoo-met-a-nide)
bupivacaine
buprenorphine (byoo-pre-nor-feen)
buPROPion (byoo-proe-pee-on)
busPIRone (byoo-spye-rone)
busulfan (byoo-sul-fan)
BUTALBITAL COMPOUND
butenafine,
butoconazole,
butorphanol (byoo-tor-fa-nole)
C
cabergoline (ka-ber-goe-leen)
caffeine citrate (ka-feen si-trate)
CALCITONIN
calcitriol
CALCIUM SALTS
candesartan
capecitabine (kap-pe-site-a-been)
capsaicin (kap-say-sin)
captopril
carbamazepine (kar-ba-maz-e-peen)
carbidopa/levodopa (kar-bi-doe-pa/lee -voe-doe-pa) Parcopa, Sinemet, Sinemet CR
carbonyl iron
carboplatin (kar-boe-pla-tin)
carisoprodol (kar-i-sop-roe-dole)
carmustine (kar-mus-teen)
carvedilol (kar-ve-dil-ole)
caspofungin (kas-po-fun-gin)
cefaclor
cefadroxil
cefazolin
cefdinir
cefditoren
cefepime (seff-e-peem)
cefixime
cefoperazone
cefotaxime
cefotetan
cefoxitin
cefpodoxime
cefprozil
ceftazidime
ceftibuten
ceftizoxime
ceftriaxone
cefuroxime
celecoxib (sel-e-kox-ib)
cephalexin
CEPHALOSPORINS—FIRST GENERATION
CEPHALOSPORINS—SECOND GENERATION
CEPHALOSPORINS—THIRD GENERATION
certolizumab pegol (ser-toe-liz-u-mab)
cetirizine (se-ti-ra-zeen)
cetuximab (se-tux-i-mab)
chloral hydrate (klor-al hye-drate)
chlordiazepoxide (klor-dye-az-e-pox-ide)
chlorothiazide
chlorpheniramine (klor-fen-ir-a-meen)
chlorproMAZINE (klor-proe-ma-zeen)
chlorthalidone (thiazide–like)
chlorzoxazone (klor-zox-a-zohn)
cholecalciferol
cholestyramine (koe-less-tear-a-meen)
choline and magnesium salicylates
choline salicylate
ciclesonide
ciclopirox
cidofovir (sye-doe-foe-veer)
cilostazol (sil-os-tah-zol)
cimetidine
cinacalcet (sin-a-kal-set)
cisplatin (sis-pla-tin)
citalopram (si-tal-oh-pram)
cladribine (klad-ri-been)
clarithromycin (kla-rith-roe-mye-sin)
clevidipine (kle-vi-di-peen)
clindamycin (klin-da-mye-sin)
clobetasol
clocortolone
clofarabine (klo-far-a-been)
clonazepam (kloe-na-ze-pam)
clonidine (klon-i-deen)
clopidogrel (kloh-pid-oh-grel)
clorazepate (klor-az-e-pate)
clotrimazole
clotrimazole
clozapine (kloe-za-peen)
codeine (koe-deen)
colchicine (kol-chi-seen)
colesevelam (koe-le-sev-e-lam)
colestipol (koe-les-ti-pole)
CONTRACEPTIVES, HORMONAL MONOPHASIC ORAL CONTRACEPTIVES
BIPHASIC ORAL CONTRACEP TIVES
TRIPHASIC ORAL CONTRACEPTIVES
EXTENDED-CYCLE ORAL CONTRACEPTIVE
PROGESTIN-ONLY ORAL CONTRACEPTIVE
PROGRESSIVE ESTROGEN ORAL CONTRACEPTIVES
CONTRACEPTIVE IMPLANT
EMERGENCY CONTRACEPTIVE
INJECTABLE CONTRACEPTIVE
INTRAUTERINE CONTRACEPTIVE
VAGINAL RING CONTRACEPTIVE
TRANSDERMAL CONTRACEPTIVE
CORTICOSTEROIDS (INHALATION)
CORTICOSTEROIDS (NASAL)
CORTICOSTEROIDS (SYSTEMIC)
CORTICOSTEROIDS (TOPICAL/ LOCAL)
cortisone
cyanocobalamin
cyclobenzaprine (sye-kloe-ben-za-preen)
cyclophosphamide (sye-kloe-fos-fa-mide)
cycloSPORINE† (sye-kloe-spor-een)
cyproheptadine (si-proe-hep-ta-deen)
cytarabine (sye-tare-a-been)
D
dacarbazine (da-kar-ba-zeen)
dalteparin
dantrolene (dan-troe-leen)
daptomycin (dap-to-mye-sin)
darbepoetin (dar-be-poh-e-tin)
darifenacin (dar-i-fen-a-sin)
darunavir (da-ru-na-veer)
DAUNOrubicin hydrochloride (daw-noe-roo-bi-sin hye-dro-klor-ide)
decitabine (de-sit-a-been)
deferoxamine (de-fer-ox-a-meen)
desipramine (dess-ip-ra-meen)
desirudin (des-i-rude-in)
desloratadine (dess-lor-a-ta-deen)
desmopressin (des-moe-press-in)
desonide
desoximetasone
desvenlafaxine (des-ven-la-fax-een)
dexamethasone
dexlansoprazole (dex-lan-soe-pra-zole)
dexmedetomidine (dex-me-de-to-mi-deen)
dexmethylphenidate (dex-meth-ill-fen-i-date)
dexrazoxane (dex-ra-zox-ane)
dextroamphetamine (dex-troe-am-fet-a-meen)
dextromethorphan (dex-troe-meth-or-fan)
diazepam (dye-az-e-pam)
DICLOFENAC (dye-kloe-fen-ak)
dicloxacillin
dicyclomine (dye-sye-kloe-meen)
diflorasone
digoxin (di-jox-in)
digoxin immune Fab (di-jox-in im-myoon fab)
dihydroergotamine
diltiazem (dil-tye-a-zem)
dinoprostone (dye-noe-prost-one)
diphenhydrAMINE (oral, parenteral) (dye-fen-hye-dra-meen)
diphenoxylate/atropine (dye-fen-ox-i-late/a-troe-peen)
dipyridamole (dye-peer-id-a-mole)
DIURETICS (POTASSIUM- SPARING)
DIURETICS (THIAZIDE)
divalproex sodium
DOBUTamine (doe-byoo-ta-meen)
docetaxel (doe-se-tax-el)
docosanol (doe-koe-sa-nole)
DOCUSATE (dok-yoo-sate)
dofetilide (doe-fet-il-ide)
dolasetron (dol-a-se-tron)
donepezil (doe-nep-i-zill)
DOPamine (dope-a-meen)
doripenem (do-ri-pen-em)
doxazosin (dox-ay-zoe-sin)
doxepin (dox-e-pin)
doxercalciferol
DOXOrubicin (dox-oh-roo-bi-sin)
DOXOrubicin, liposomal (dox-oh-roo-bi-sin lye-poe-sohm-al)
doxycycline
dronedarone (dro-ned-a-rone) Multaq
droperidol (droe-per-i-dole)
drotrecogin (dro-tre-coe-gin)
duloxetine (do-lox-e-teen)
dutasteride (doo-tas-te-ride)
E
econazole
efavirenz (e-fa-veer-enz)
eletriptan (e-le-trip-tan)
emtricitabine (em-tri-si-ti-been)
enalapril/enalaprilat
enoxaparin
entacapone (en-tak-a-pone)
entecavir (en-tek-aveer)
EPIDURAL LOCAL ANESTHETICS
epinephrine (e-pi-nef-rin)
epirubicin (ep-i-roo-bi-sin)
eplerenone (e-ple-re-none)
epoetin (e-poe-e-tin)
eprosartan
eptifibatide (ep-ti-fib-a-tide)
ergocalciferol
ergonovine (er-goe-noe-veen)
ergotamine (er-got-a-meen)
erlotinib (er-lo-ti-nib)
ertapenem (er-ta-pen-em)
ERYTHROMYCIN† (eh-rith-roe-mye-sin)
escitalopram (ess-sit-al-o-pram)
esmolol (es-moe-lole)
esomeprazole (es-o-mep-ra-zole)
ESTRADIOL (es-tra-dye-ole)
estrogens, conjugated (equine) (ess-troe-jenz)
eszopiclone (es-zop-i-klone)
etanercept (e-tan-er-sept)
ethambutol (e-tham-byoo-tole)
ethinyl estradiol/desogestrel
ethinyl estradiol/drospirenone
ethinyl estradiol/ethynodiol
ethinyl estradiol/etonogestrel
ethinyl estradiol/levonorgestrel
ethinyl estradiol/norelgestromin
ethinyl estradiol/norethindrone
ethinyl estradiol/norgestimate
ethinyl estradiol/norgestrel
etidronate (eh-tih-droe-nate)
etodolac (ee-toe-doe-lak)
etonorgestrel
ETOPOSIDES (e-toe-poe-sides)
etravirine (e-tra-veer-een)
exenatide (ex-en-a-tide)
ezetimibe (e-zet-i-mibe)
F
famciclovir (fam-sye-kloe-veer)
famotidine
febuxostat (fe-bux-o-stat)
felodipine (fe-loe-di-peen)
fenofibrate (fen-o-fi-brate)
fenofibric acid (feen-ohfye-brik as-id)
fenoldopam (fen-ole-doe-pam)
fentanyl buccal/transmucosal (fen-ta-nil)
fentanyl (parenteral) (fen-ta-nil)
fentanyl (transdermal) (fen-ta-nil)
ferrous fumarate
ferrous gluconate
ferrous sulfate
ferumoxytol (fer-u-mox-y-tole)
fesoterodine (fee-soe-ter-o-deen)
fexofenadine (fex-oh-fen-a-deen)
filgrastim (fil-gra-stim)
finasteride (fi-nas-teer-ide)
flecainide (flek-a-nide)
fluconazole (floo-kon-a-zole)
fludarabine (floo-dar-a-been)
fludrocortisone
flumazenil (flu-maz-e-nil)
flunisolide
flunisolide
fluocinolone
fluocinonide
FLUOROQUINOLONES (floor-oh-kwin-oh-lones)
fluorouracil (flure-oh-yoor-a-sill)
fluoxetine (floo-ox-uh-teen)
fluphenazine (floo-fen-a-zeen)
flurandrenolide
flurazepam (flur-az-e-pam)
fluticasone
fluticasone
fluticasone
fluvastatin
fluvoxamine (floo-voks-a-meen)
folic acid (foe-lika -sid)
fondaparinux (fon-da-par-i-nux)
formoterol (for-mo-te-role)
fosamprenavir (fos-am-pren-a-veer)
foscarnet (foss-kar-net)
fosinopril
fosphenytoin (foss-fen-i-toyn)
frovatriptan (froe-va-trip-tan)
furosemide (fur-oh-se-mide)
G
gabapentin (ga-ba-pen-tin)
galantamine (ga-lant-a-meen)
ganciclovir (gan-sye-kloe-vir)
gefitinib (je-fit-in-ib)
gemcitabine (jem-site-a-been)
gemfibrozil (gem-fye-broe-zil)
gemtuzumab ozogamicin (gem-tu-zoo-mab o-zo-ga-my-sin)
gentamicin
glimepiride
glipiZIDE
glucagon (gloo-ka-gon)
glyBURIDE
glycopyrrolate (glye-koe-pye-roe-late)
golimumab (go-li-mu-mab)
goserelin (goe-se-rel-lin)
granisetron (oral and IV) (gra-nees-e-tron) Kytril
GROWTH HORMONES
guaifenesin (gwye-fen-e-sin)
H
halcinonide
halobetasol
haloperidol (ha-loe-per-i-dole)
heparin (hep-a-rin)
HEPARINS (LOW MOLECULAR WEIGHT)
HISTAMINE H 2 ANTAGONISTS
HMG-CoA REDUCTASE INHIBITORS (statins)
human papillomavirus quadrivalent (types 6, 11, 16, and 18) vaccine, recombinant (hyoo-man pa-pil-lo-ma)
hydrALAZINE (hye-dral-a-zeen)
hydralazine/isosorbide dinitrate (hye-dral-a-zeen eye-so-sor-bide di-ni-trate)
hydrochlorothiazide
hydrocodone (hye-droe-koe-done)
hydrocortisone
hydrocortisone
hydromorphone (hye-droe-mor-fone)
hydroxocobalamin
hydroxychloroquine (hye-drox-ee-klor-oh-kwin)
hydrOXYzine (hye-drox-i-zeen)
hyoscyamine (hi-oh-si-a-meen)
I
ibandronate (i-ban-dro-nate)
ibuprofen (oral) (eye-byoo-proe-fen)
ibutilide (eye-byoo-ti-lide)
idarubicin (eye-da-roo-bi-sin)
ifosfamide (eye-foss-fam-ide)
iloperidone (eye-loe-per-i-done)
imatinib (i-mat-i-nib)
imipenem/cilastatin (i-me-pen-em/sye-la-stat-in)
imipramine (im-ip-ra-meen)
imiquimod (i-mi-kwi-mod)
indapamide (in-dap-a-mide)
indomethacin (in-doe-meth-a-sin)
infliximab (in-flix-i-mab)
INSULIN (mixtures) (in-su-lin)
INSULINS (short acting) (in-su-lin)
INSULINS (intermediate-acting) (in-su-lin)
INSULINS (long-acting) (in-su-lin)
INSULINS (rapid acting) (in-su-lin)
INTERFERONS, ALPHA (in-ter-feer-onz)
INTERFERONS, BETA (in-ter-feer-on)
IODINE, IODIDE
ipratropium (i-pra-troe-pee-um)
irbesartan
irinotecan (eye-ri-noe-tee-kan)
IRON SUPPLEMENTS carbonyl iron (100%) (kar-bo-nil eye-ern)
isocarboxazid
isoniazid (eye-soe-nye-a-zid)
ISOSORBIDE
isotretinoin (eye-soe-tret-i-noyn)
isradipine (is-ra-di-peen)
itraconazole (it-tra-kon-a-zole)
ixabepilone (icks-a-bep-i-lone)
K
kanamycin
ketoconazole (systemic)† (kee-toe-koe-na-zole)
ketoconazole
ketoprofen (kee-toe-proe-fen)
ketorolac† (kee-toe-role-ak)
L
labetalol (la-bet-a-lole)
lactulose (lak-tyoo-lose)
lamivudine (la-mi-vyoo-deen)
lamotrigine (la-moe-tri-jeen)
lansoprazole (lan-soe-pra-zole)
lanthanum carbonate (lan-than-um)
lapatinib (la-pat-i-nib)
leflunomide (le-flu-noe-mide)
lepirudin (rDNA) (le-peer-yoo-din)
letrozole (let-roe-zole)
leucovorin calcium (loo-koe-vor-in)
leuprolide (loo-proe-lide)
levalbuterol (leev-al-byoo-ter-ole)
levetiracetam (le-ve-teer-a-se-tam)
levonorgestrel
levothyroxine
LIDOCAINE
lidocaine/prilocaine (lye-doe-kane/pri-loe-kane)
lindane (lin-dane)
linezolid (li-nez-o-lid)
liothyronine
liotrix
lisinopril
lithium (lith-ee-um)
loperamide (loe-per-a-mide)
lopinavir/ritonavir (loe-pin-a-veer/ri-toe-na-veer)
loratadine (lor-a-ta-deen)
lorazepam (lor-az-e-pam)
losartan
lovastatin
M
magaldrate
MAGNESIUM AND ALUMINUM SALTS
magnesium salicylate
MAGNESIUM SALTS (ORAL)
magnesium sulfate (IV, parenteral) (9.9% Mg; 8.1 mEq Mg/g) (mag-nee-zhum sul-fate)
mannitol (man-i-tol)
maraviroc (ma-ra-vi-rok)
meclizine (mek-li-zeen)
medroxyPROGESTERone† (me-drox-ee-proe-jess-te-rone)
medroxyprogesterone
megestrol (me-jess-trole)
meloxicam (me-lox-i-kam)
melphalan (mel-fa-lan)
memantine (me-man-teen)
meperidine (me-per-i-deen)
meropenem (mer-oh-pen-nem)
mesalamine (me-sal-a-meen)
mesna (mes-na)
mestranol/norethindrone
metaxalone (me-tax -a-lone)
metformin (met-for-min)
methadone (meth-a-done)
methimazole (meth-im-a-zole)
methocarbamol (meth-oh-kar-ba-mole)
methotrexate (meth-o-trex-ate)
methyldopa (meth-ill-doe-pa)
methylergonovine (meth-ill-er-goe-noe-veen)
methylnaltrexone (me-thil-nal-trex-one)
methylphenidate (oral) (meth-ill-fen-i-date)
methylPREDNISolone
metoclopramide (met-oh-kloe-pra-mide)
metolazone (me-tole-a-zone)
metoprolol (me-toe-proe-lole)
metronidazole (me-troe-ni-da-zole)
micafungin (my-ka-fun-gin)
miconazole
miconazole
midazolam (mid-ay-zoe-lam)
mifepristone (mi-fe-priss-tone)
miglitol (mi-gli-tole)
milnacipran (mil-na-sip-ran)
milrinone (mill-ri-none)
minocycline
mirtazapine (meer-taz-a-peen)
misoprostol (mye-soe-prost-ole)
mitomycin (mye-toe-mye-sin)
mitoxantrone (mye-toe-zan-trone)
modafinil (mo-daf-i-nil)
moexipril
mometasone
mometasone
mometasone
MONOAMINE OXIDASE (MAO) INHIBITORS
montelukast (mon-te-loo-kast)
morphine (mor-feen)
mupirocin (myoo-peer-oh-sin)
muromonab-CD3 (myoo-roe-moe-nab CD3)
mycophenolate mofetil (mye-koe-fee-noe-late moe-fe-til)
N
nabumetone (na-byoo-me-tone)
nadolol (nay-doe-lole)
nafarelin (na-fare-e-lin)
nafcillin
naftifine
nalbuphine (nal-byoo-feen)
naloxone (nal-ox-one)
naproxen (na-prox-en)
naratriptan (nar-a-trip-tan)
nateglinide (na-teg-li-nide)
nebivolol (ne-bi-vi-lole)
nefazodone (neff-a-zoe-done)
neomycin
neostigmine (nee-oh-stig-meen)
nesiritide (ne-sir-i-tide)
nevirapine (ne-veer-a-peen)
niacin (nye-a-sin)
niCARdipine (nye-kar-di-peen)
NICOTINE (nik-o-teen)
NIFEdipine (nye-fed-i-peen)
nilotinib (ni-lo-ti-nib)
nimodipine (nye-moe-di-peen)
nisoldipine (nye-sole-di-peen)
nitrofurantoin (nye-troe-fyoor-an-toyn)
nitroglycerin (nye-tro-gli-ser-in)
nitroprusside (nye-troe-pruss-ide)
nizatidine
norepinephrine (nor-ep-i-nef-rin)
norethindrone
norethindrone/ethinyl acetate
nortriptyline (nor-trip-ti-leen)
NPH insulin (isophane insulin suspension)
NPH/regular insulin mixtures
nystatin (nye-stat-in)
nystatin
nystatin
O
octreotide (ok-tree-oh-tide)
olanzapine (oh-lan-za-peen)
olmesartan
olopatadine (nasal spray) (o-lo-pa-ta-deen)
olsalazine (ole-sal-a-zeen)
omalizumab (o-ma-liz-u-mab)
omega-3-acid ethyl esters (ohme-ga three as-id eth-il es-ters)
omeprazole (o-mep-ra-zole)
ondansetron (on-dan-se-tron)
oprelvekin (o-prell-ve-kin)
orlistat (or-li-stat)
oseltamivir (o-sel-tam-i-vir)
oxacillin
oxaliplatin (ox-a-li-pla-tin)
oxaprozin (ox-a-proe-zin)
oxazepam (ox-az-e-pam)
oxcarbazepine (ox-kar-baz-e-peen)
oxiconazole
OXYBUTYNIN (ox-i-byoo-ti-nin)
oxycodone (ox-i-koe-done)
oxymorphone (ox-i-mor-fone)
oxytocin (ox-i-toe-sin)
P
paclitaxel (pak-li-tax-el)
palifermin (pa-liff-er-min)
paliperidone (pa-li-per-i-done)
palonosetron (pa-lone-o-se-tron)
pamidronate (pa-mid-roe-nate)
pancrelipase (pan-kre-li-pase)
pancuronium
panitumumab (pan-i-tu-mu-mab)
pantoprazole (pan-toe-pra-zole)
paricalcitol
paroxetine hydrochloride (par-ox-e-teen)
pazopanib (paz-oh-pi-nab)
pegaspargase (peg-ass-par-jase)
pegfilgrastim (peg-fil-gra-stim)
peginterferon alpha-2a
peginterferon alpha-2b
pemetrexed (pe-me-trex-ed)
penciclovir (pen-sye-kloe-veer)
PENICILLINS (pen-i-sill-ins)
PENICILLINS, PENICILLINASE RESISTANT
pentamidine (pen-tam-i-deen)
pentazocine (pen-taz-oh-seen)
perindopril
permethrin (per-meth-rin)
phenazopyridine (fen-az-oh-peer-i-deen)
phenelzine
phenobarbital (fee-noe-bar-bi-tal)
phentermine (fen-ter-meen)
phentolamine (fen-tole-a-meen)
phenytoin (fen-i-toyn)
phosphate/biphosphate (foss-fate/bye-foss -fate)
phytonadione (fye-toe-na-dye-one)
pilocarpine (oral)† (pye-loe-kar-peen)
pimecrolimus (pi-me-cro-li-mus)
pioglitazone (pi-o-glit-a-zone)
piperacillin/tazobactam (pi-per-a-sill-in/tay-zoe-bak-tam)
piroxicam (peer-ox-i-kam)
pitavastatin
polyethylene glycol (po-lee-eth-e-leen glye-kole)
polyethylene glycol/ electrolyte (po-lee-eth-e-leen glye-kole/e-lek-troe-lite)
posaconazole (po-sa -kon-a-zole)
potassium and sodium phosphates (po-tas-e-um/soe-dee-yum fossfates)
potassium iodide
POTASSIUM SUPPLEMENTS (poe-tass-ee-um)
pramipexole (pra-mi-pex-ole)
pramlintide (pram-lin-tide)
prasugrel (pra-soo-grel)
pravastatin
prazosin (pra-zoe-sin)
prednicarbate
prednisoLONE
predniSONE
pregabalin (pre-gab-a-lin)
procainamide (proe-kane-ah-mide)
procaine penicillin G
procarbazine (proe-kar-ba-zeen)
prochlorperazine (proe-klor-pair-a-zeen)
progesterone (proe-jess-te-rone)
promethazine (proe-meth-a-zeen)
propafenone (proe-paff-e-nown)
propofol (proe-poe-fol)
PROPOXYPHENE
propranolol (proe-pran-oh-lole)
propylthiouracil (proe-pill-thye-oh-yoor-a-sill)
protamine sulfate (proe-ta-meen)
pseudoephedrine (soo-doe-e-fed-rin)
psyllium (sill-i-yum)
pyrazinamide (peer-a-zin-a-mide)
pyridostigmine (peer-id-oh-stig-meen)
pyridoxine (peer-i-dox-een)
pyrimethamine (peer-i-meth-a-meen)
Q
quetiapine (kwet-eye-a-peen)
quinapril
QUINIDINE (kwin-i-deen)
quinine (kwi-nine)
quinupristin/dalfopristin (kwin-oo-pris-tin/dal-foe-pris-tin)
R
rabeprazole (ra-bep-ra-zole)
raloxifene (ra-lox-i-feen)
raltegravir (ral-teg-ra-veer)
ramelteon (ra-mel-tee-on)
ramipril
ranitidine
ranolazine (ra-nole-a-zeen)
rasagiline (raza-ji-leen)
rasburicase (ras-byoor-i-case)
repaglinide (re-pag-gli-nide)
reteplase
Rh o (D) IMMUNE GLOBULIN (arr aych oh dee im-yoon globyoo-lin)
ribavirin (rye-ba-vye-rin)
rifabutin (riff-a-byoo-tin)
rifampin (rif-am-pin)
rifaximin (ri-fax-i-min)
risedronate (riss-ed-roe-nate)
risperidone (riss-per-i-done)
ritonavir (ri-toe-na-veer)
rituximab (ri-tux-i-mab)
rivastigmine (rye-va-stig-meen)
rizatriptan (riz-a-trip-tan)
ropinirole (roe-pin-i-role)
ropivacaine
rosiglitazone (roe-zi-glit-a-zone)
rosuvastatin
S
SALICYLATES
salmeterol (sal-me-te-role)
salsalate
sargramostim (sar-gram-oh-stim)
saxagliptin (sax-a-glip-tin)
scopolamine (scoe-pol-a-meen)
selegiline (se-le-ji-leen)
selegiline transdermal (se-le-ji-leen)
sennosides (sen-oh-sides)
sertaconazole (ser-ta-kon-a-zole)
sertraline (ser-tra-leen)
sevelamer (se-vel-a-mer)
sibutramine (si-byoo-tra-meen)
sildenafil (sil-den-a-fil)
silodosin (si-lo-do-sin)
simethicone (si-meth-i-kone)
simvastatin
sirolimus (sir-oh-li-mus)
sitagliptin (sit-a-glip-tin)
sodium bicarbonate (soe-dee-um bye-kar-boe-nate)
sodium chloride (IV/oral) (soe-dee-um klor-ide)
sodium citrate and citric acid (soe-dee-um sye-trate and sit-rik as-id)
sodium ferric gluconate complex
sodium polystyrene sulfonate (soe-dee-um po-lee-stye-reen sulfon-ate)
sodium salicylate
solifenacin (so-li-fen-a-sin)
somatropin (recombinant)
sotalol (soe-ta-lole)
spironolactone
streptokinase
streptomycin
strong iodine solution
sucralfate (soo-kral-fate)
sulconazole
sulfasalazine (sul-fa-sal-a-zeen)
SULFONYLUREAS
sulindac (soo-lin-dak)
sumatriptan (soo-ma-trip-tan)
sunitinib (su-ni-ti-nib)
T
tacrine (tak-rin)
TACROLIMUS
tadalafil (ta-da-la-fil)
tamoxifen (ta-mox-i-fen)
tamsulosin (tam-soo-loe-sin)
tapentadol (ta-pen-ta-dol)
telmisartan
temazepam (tem-az-a-pam)
tenecteplase
tenofovir (te-noe-fo-veer)
terazosin (ter-ay-zoe-sin)
terbinafine (ter-bi-na-feen)
terbinafine
terbutaline (ter-byoo-ta-leen)
terconazole
teriparatide (ter-i-par-a-tide)
TESTOSTERONE (tess-toss-te-rone)
tetracycline
TETRACYCLINES
thalidomide (tha-lid-oh-mide)
theophylline
thiamine (thye-a-min)
thioridazine (thye-oh-rid-a-zeen)
THROMBOLYTIC AGENTS
thyroid
THYROID PREPARATIONS
tiagabine (tye-a-ga-been)
ticarcillin/clavulanate (tye-kar-sil-in/klav-yoo-la-nate)
ticlopidine (tye-cloe-pi-deen)
tigecycline (tye-gi-sye-kleen)
timolol (tim-oh-lole)
tinidazole (ti-nid-a-zole)
tinzaparin
tioconazole
tiotropium (tye-o-trope-ee-yum)
tirofiban (tye-roe-fye-ban)
tizanidine (tye-zan-i-deen)
tobramycin
tolcapone (tole-ka-pone)
tolnaftate
tolterodine (tol-ter-oh-deen)
tolvaptan (tol-vap-tan)
topiramate (toe-peer-i-mate)
topotecan (toe-poe-tee-kan)
torsemide (tore-se-mide)
tramadol (tra-ma-dol)
trandolapril
tranylcypromine
trastuzumab (traz-too-zoo-mab)
trazodone (traz-oh-done)
triamcinolone
triamcinolone
triamcinolone
triamterene
triazolam (trye-az-oh-lam)
tricalcium phosphate (39% Ca or 19.5 mEq/g)
trikates (potassium acetate/potassium bicarbonate/potassium citrate)
trimethoprim/sulfamethoxazole (trye-meth-oh-prim/sul-fa-meth-ox-a-zole)
trospium (tros-pee-yum)
U
V
valacyclovir (val-ay-sye-kloe-veer)
valganciclovir (val-gan-sye-kloe-veer)
VALPROATES
valsartan
vancomycin (van-koe-mye-sin)
vardenafil (var-den-a-fil)
varenicline (ver-en-i-cline)
vasopressin (vay-soe-press-in)
venlafaxine (ven-la-fax-een)
verapamil (ver-ap-a-mil)
vinBLAStine (vin-blass-teen)
vinCRIStine (vin-kriss-teen)
vinorelbine (vine-oh-rel-been)
VITAMIN B 12 PREPARATIONS
VITAMIN D COMPOUNDS
vitamin E (vye-ta-min E)
voriconazole (vor-i-kon-a-zole)
W
Z
zafirlukast (za-feer-loo-kast)
zaleplon (za-lep-lon)
zanamivir (za-na-mi-veer)
ziconotide (zi-ko-no-tide)
zidovudine (zye-doe-vue-deen)
zinc sulfate (zink sul-fate)
ziprasidone (zi-pra-si-done)
zoledronic acid (zoe-led-dron-ic as-id)
zolmitriptan (zole-mi-trip-tan)
zolpidem (zole-pi-dem)
zonisamide (zoe-niss-a-mide)
Less Commonly Used Drugs
acamprosate calcium (a-cam-pro-sate)
activated charcoal
aldesleukin (al-dess-loo-kin)
alitretinoin (a-li-tret-i-noyn)
amoxapine (a-mox-a-peen)
arsenic trioxide (ar-sen-ik trye-ox-ide)
ascorbic acid (as-kor-bik as-id)
bethanechol (be-than-e-kole)
biperiden (by-per-i-den)
botulism immune globulin (botyoo-lism im-yoon glob-yoo-lin)
bromocriptine (broe-moe-krip-teen)
brompheniramine (brome-fen-ir-a-meen)
chlorambucil (klor-am-byoo-sill)
clomiPRAMINE (kloe-mip-ra-meen)
cytomegalovirus immune globulin (site-oh-meg-a-loe-vye-rus)
danazol (da-na-zole)
didanosine (dye-dan-oh-seen)
disulfiram (di-sul-fir-am)
eflornithine (topical) (ee-flor-ni-theen)
enfuvirtide (en-foo-veer-tide)
flutamide (floo-ta-mide)
guanfacine (gwahn-fa-seen)
hydroxyurea (hye-drox-ee-yoor-ee-a)
iloprost (eye-lo-prost)
indinavir (in-din-a-veer)
mebendazole (me-ben-da-zole)
mechlorethamine (me-klor-eth-a-meen)
mercaptopurine (mer-kap-toe-pyoor-een)
minoxidil (systemic) (mi-nox-i-dill)
nelfinavir (nell-finn-a-veer)
pegaptanib (peg-apt-i-nib)
penicillamine (pen-i-sill-a-meen)
pentobarbital (pen-toe-bar-bi-tal)
polycarbophil (pol-i-kar-boe-fil)
POTASSIUM PHOSPHATES (poe-tass-ee-um foss-fates)
ranibizumab (ran-i-bi-zoo-mab)
riboflavin (rye-boe-flay-vin)
rifapentine (rif-a-pen-teen)
saquinavir (sa-kwin-a-vir)
sodium phosphate (soe-dee-um foss-fate)
stavudine (stav-yoo-deen)
succimer (sux-i-mer)
tegaserod (te-gas-er-od)
temsirolimus (tem-si-ro-li-mus)
thioguanine (thye-oh-gwon-een)
tiludronate (tye-loo-droe-nate)
tipranavir (ti-pran-a-veer)
tolmetin (tole-met-in)
trifluoperazine (trye-floo-oh-pair-a-zeen)
trihexyphenidyl (trye-hex-ee-fen-i-dill)
trimipramine (trye-mip-ra-meen)
triptorelin (trip-to-rel-in)
verteporfin (ver-te-por-fin)
zileuton (zye-loo-ton)
Natural/Herbal Products
aloe (al-oh)
arnica (ar-ni-cuh)
bilberry
black cohosh (blak coe-hosh)
chondroitin (konn-droy-tinn)
Crataegus Species
dong quai (don kwi)
echinacea (Echinacea Purpurea) (ek-i-nay-sha)
feverfew (fee-vurr-fyoo)
garlic (gar-lik)
ginger (Zingiber Officinale) (jin-jer)
ginkgo (ging-ko)
ginseng (Panax Ginseng) (jin-seng)
glucosamine (glew-kos-ah-meen)
grape seed extract
green tea (green tee)
hawthorne (Crataegus Species) (haw-thorn)
Hypericum Perforatum
kava-kava (Piper Methysticum) (ka-va-ka-va)
milk thistle (milk this-ul)
Panax Ginseng
Piper Methysticum
SAMe (sam-ee)
saw palmetto
St. John's wort (Hypericum perforatum) (saynt jonz wort)
valerian (vuh-lare-ee-en)
Zingiber Officinale
APPENDICES
APPENDIX A Recent Drug Approvals

APPENDIX B Combination Drugs

APPENDIX C Ophthalmic Medications

APPENDIX D Medication Administration Techniques

APPENDIX E Formulas Helpful for Calculating Doses

APPENDIX F Body Surface Area Nomograms

APPENDIX G Normal Values of Common Laboratory Tests

APPENDIX H Commonly Used Abbreviations

APPENDIX I Pregnancy Categories

APPENDIX J Controlled Substances Schedules

APPENDIX K Equianalgesic Dosing Guidelines

APPENDIX L Recommendations for the Safe Handling of Hazardous Drugs*

APPENDIX M Food Sources for Specific Nutrients

APPENDIX N Insulins and Insulin Therapy

APPENDIX O Canadian and U.S. Pharmaceutical Practices

APPENDIX P Routine Pediatric and Adult Immunizations

APPENDIX Q Administering Medications to Children

APPENDIX R Pediatric Dosage Calculations

APPENDIX S Pediatric Fluid and Electrolyte Requirements

APPENDIX T Early Management of Anaphylactic Reactions

APPENDIX U The Cytochrome P450 System: What Is It and Why Should I Care? 1
BIBLIOGRAPHY
MEDICATION SAFETY TOOLS
Topics within this title:
Acamprosate Calcium
Acarbose
Acetaminophen
Acetazolamide
Acetylcysteine
Acyclovir
Adalimumab
Adenosine
Albumin
Albuterol
Alcohol
Aldesleukin
Alemtuzumab
Alitretinoin
Allopurinol
Alprazolam
Alteplase
Aluminum
Aluminum Hydroxide
Amcinonide
Amifostine
Amikacin
Aminocaproic Acid
Aminophylline
Amiodarone
Amitriptyline
Amoxapine
Amoxicillin
Amphetamine
Amphotericin B
Amphotericin B Cholesteryl Sulfate
Amphotericin B Lipid Complex
Amphotericin B Liposome
Ampicillin
Anakinra
Anastrozole
Anemia
Anidulafungin
Aprepitant
Argatroban
Aripiprazole
Arnica
Arrhythmias
Arsenic Trioxide
Ascorbic Acid
Asparaginase
Aspirin
Asthma
Atenolol
Atovaquone
Azacitidine
Azathioprine
Azithromycin
AZT
Baclofen
Basiliximab
Becaplermin
Benzathine Penicillin
Beta Blockers
Betamethasone
Bevacizumab
Bicalutamide
Bicarbonate
Bilberry
Bimatoprost
Biperiden
Bisacodyl
Bismuth Subsalicylate
Bivalirudin
Black Cohosh
Blood
Bone Resorption
Bortezomib
Breast Cancer
Bronchitis
Budesonide
Bumetanide
Buprenorphine
Busulfan
Butalbital
Cabergoline
Caffeine Citrate
Calcitriol
Calcium
Calcium Acetate
Calcium Carbonate
Calcium Chloride
Calcium Citrate
Calcium Gluconate
Calcium Lactate
Cancer
Capecitabine
Capsaicin
Captopril
Carbamazepine
Carbidopa
Carboplatin
Carisoprodol
Carmustine
Carvedilol
Cefaclor
Cefadroxil
Cefazolin
Cefdinir
Cefixime
Cefoperazone
Cefotetan
Cefprozil
Ceftazidime
Ceftibuten
Ceftizoxime
Cefuroxime
Celecoxib
Cephalexin
Cetuximab
Chloral Hydrate
Chlorambucil
Chlordiazepoxide
Chlorothiazide
Chlorpromazine
Chlorthalidone
Chlorzoxazone
Cholecalciferol
Cholestyramine
Choline Salicylate
Chronic Bronchitis
Chronic Renal Failure
Ciclesonide
Ciclopirox
Cidofovir
Cilostazol
Cimetidine
Ciprofloxacin
Cisplatin
Citalopram
Cladribine
Clarithromycin
Clindamycin
Clofarabine
Clonazepam
Clonidine
Clotrimazole
Clozapine
CoA
Codeine
Colchicine
COPD
Crataegus
Cryptococcal Meningitis
Cyanocobalamin
Cyclophosphamide
Cyclosporine
Cytarabine
Dacarbazine
Dalfopristin
Danazol
Daptomycin
Darifenacin
Daunorubicin Hydrochloride
Decitabine
Desirudin
Desloratadine
Desmopressin
Desogestrel
Desonide
Desoximetasone
Dexamethasone
Dexrazoxane
Dextromethorphan
Diazepam
Diclofenac
Diclofenac Potassium
Diclofenac Sodium
Dicloxacillin
Didanosine
Difenoxin
Digoxin
Dihydroergotamine
Dinoprostone
Diphenhydramine
Dipyridamole
Disulfiram
Divalproex Sodium
Dobutamine
Docetaxel
Docosanol
Docusate Calcium
Docusate Sodium
Dofetilide
Doxercalciferol
Doxorubicin
Doxycycline
Droperidol
Drospirenone
Duodenal Ulcer
Dutasteride
DVT
Echinacea
Econazole
Efavirenz
Emtricitabine
Enalaprilat
Enfuvirtide
Entacapone
epidural
Epilepsy
Epinephrine
Eplerenone
Eptifibatide
Ergocalciferol
Erythromycin
Erythromycin Ethylsuccinate
Erythromycin Lactobionate
Erythromycin Stearate
Estradiol
Etanercept
Ethinyl Estradiol
Etodolac
Etonogestrel
Etoposide
Etoposide Phosphate
Ezetimibe
Famciclovir
Famotidine
Felodipine
Fenofibrate
Fentanyl
Ferrous Fumarate
Ferrous Gluconate
Ferrous Sulfate
Feverfew
Fibroids
Filgrastim
Finasteride
Fluconazole
Flumazenil
Flunisolide
Fluocinonide
Fluorouracil
Fluphenazine
Fluphenazine Decanoate
Fluphenazine Hydrochloride
Flurandrenolide
Flurazepam
Flutamide
Folic Acid
Foscarnet
Frovatriptan
Furosemide
Gabapentin
Ganciclovir
Garlic
Gastric Ulcer
Gastrointestinal Stromal Tumors
Gemfibrozil
Gemtuzumab Ozogamicin
Genital Herpes
Ginger
Ginseng
Glimepiride
Glipizide
Glucagon
Glucosamine
Glyburide
Glycol
Glycopyrrolate
Goserelin
Gout
Growth Hormone
Guaifenesin
Halcinonide
Haloperidol
Haloperidol Decanoate
Haw
Headache
Heparin
Heparin Sodium
Herpes Zoster
Hiccups
Histamine
HIV
HIV Infection
HMG
Hydrochlorothiazide
Hydrocortisone
Hydroxocobalamin
Hydroxyurea
Hyoscyamine
Hypericum
Hyperkalemia
Hyperuricemia
Hypogonadism
Hypokalemia
Hypoprothrombinemia
Ibuprofen
Ifosfamide
Iloprost
Imipenem
Imipramine
Imiquimod
Immune Globulin
Indapamide
Indomethacin
Infliximab
Influenza
Insulin
Interferon beta-1a
Interferon beta-1b
Iodine
Irbesartan
Iron
Iron Dextran
Iron Sucrose
Isocarboxazid
Isoniazid
Isosorbide
Isosorbide Dinitrate
Isosorbide Mononitrate
Isotretinoin
Isradipine
Itraconazole
Kava
Ketoconazole
Ketoprofen
Lactulose
Lamivudine
Lamotrigine
Lansoprazole
Lanthanum Carbonate
Leflunomide
Lepirudin
Letrozole
Leu
Leucovorin Calcium
Leukemia
Leuprolide
Levetiracetam
Levodopa
Levofloxacin
Levonorgestrel
Lidocaine
Lindane
Linezolid
Liotrix
Lisinopril
Lopinavir
Loratadine
Lorazepam
Lovastatin
Magaldrate
Magnesium
Magnesium Chloride
Magnesium Citrate
Magnesium Gluconate
Magnesium Hydroxide
Magnesium Oxide
Magnesium Salicylate
Magnesium Sulfate
Malaria
Mannitol
Mebendazole
Meloxicam
Melphalan
Meningitis
Mercaptopurine
Meropenem
Mesalamine
Mesna
Mestranol
Metaxalone
Methimazole
Methocarbamol
Methotrexate
Methyldopa
Methylprednisolone
Metoclopramide
Metolazone
Metoprolol
Metronidazole
Miconazole
Midazolam
Mifepristone
Miglitol
Milk Thistle
Milrinone
Minocycline
Minoxidil
Mirtazapine
Misoprostol
Mitomycin
Mitoxantrone
Modafinil
Monobasic Potassium Phosphate
Morphine
Mupirocin
Mycophenolate Mofetil
Nabumetone
Nadolol
Naproxen
Naproxen Sodium
Nateglinide
Nausea
Nebivolol
Necrosis
Neomycin
Neostigmine
Nesiritide
Nevirapine
Niacin
Niacinamide
Nicotine
Nifedipine
Nimodipine
Nisoldipine
Nitroglycerin
Nizatidine
Norelgestromin
Norepinephrine
Norethindrone
Norfloxacin
Norgestimate
Norgestrel
Nystatin
Olanzapine
Omalizumab
Omega-3-acid Ethyl Esters
Omeprazole
Ondansetron
Opioid Analgesics
Oprelvekin
Orlistat
Osteoporosis
Oxaliplatin
Oxaprozin
Oxazepam
Oxcarbazepine
Oxybutynin
Oxytocin
Paclitaxel
Panax
Pancrelipase
Pantoprazole
Paricalcitol
Paroxetine Hydrochloride
Pegaspargase
Pegfilgrastim
Peginterferon alfa-2a
Peginterferon alfa-2b
Pemetrexed
Penciclovir
Penicillamine
Penicillin
Penicillin G
Penicillin G Potassium
Penicillin G Sodium
Penicillin V
Penicillinase
Pentazocine
Pentobarbital
Perindopril
Permethrin
Phenobarbital
Phentermine
Phenylephrine
Phenytoin
Phosphate
Phosphorus
Phytonadione
Pilocarpine
Pimecrolimus
Piperacillin
Piroxicam
Pitavastatin
Pituitary
Polycarbophil
Posaconazole
Potassium
Potassium Acetate
Potassium Bicarbonate
Potassium Chloride
Potassium Citrate
Potassium Gluconate
Potassium Iodide
Pramlintide
Prednicarbate
Prednisolone
Prednisone
Pregabalin
Prilocaine
Procaine Penicillin G
Prochlorperazine
Progesterone
Promethazine
Propofol
Propoxyphene
Propoxyphene Hydrochloride
Propoxyphene Napsylate
Propylthiouracil
Protamine Sulfate
Pseudoephedrine
Pyrazinamide
Pyrimethamine
Quinidine
Quinidine Gluconate
Quinidine Sulfate
Quinine
Quinupristin
Ramipril
Ranitidine
Rasburicase
Recurrence
Renal Failure
Repaglinide
Reteplase
Ribavirin
Riboflavin
Rifabutin
Rifampin
Rifapentine
Rifaximin
Risperidone
Ritonavir
Rituximab
Rivastigmine
Salsalate
Salt
Saquinavir
Sargramostim
Saw Palmetto
Scopolamine
Sennosides
Simethicone
Simvastatin
Sirolimus
Sodium
Sodium Bicarbonate
Sodium Chloride
Sodium Citrate
Sodium Ferric Gluconate Complex
Sodium Phosphate
Sodium Salicylate
Soman
Somatrem
Somatropin
Spironolactone
Stavudine
Streptokinase
Streptomycin
Stye
Succimer
Sucralfate
Sulbactam
Sulfamethoxazole
Sulfasalazine
Sulindac
Sumatriptan
Tacrolimus
Tadalafil
Telmisartan
Temazepam
Tenecteplase
Tenofovir
Terbinafine
Terconazole
Teriparatide
Testosterone
Tetracycline
Thalidomide
Theophylline
Thioguanine
Thioridazine
Thyroid
Timolol
Tin
Tinidazole
Tioconazole
Tipranavir
Tobramycin
Tolcapone
Tolnaftate
Topiramate
Torsemide
Toxicity
Trandolapril
Trastuzumab
Triamcinolone
Triamterene
Triazolam
Tricalcium Phosphate
Trimethoprim
Trimipramine
Triptorelin
Tumors
Ulcer
Ulcers
Urokinase
Uterine Fibroids
Vaccines
Valerian
Valproate Sodium
Valproic Acid
Valsartan
Vancomycin
Vardenafil
Varenicline
Vascular Headache
Vasopressin
Verteporfin
Vitamin K Deficiency
Vomiting
Voriconazole
Zafirlukast
Zaleplon
Zanamivir
Ziconotide
Zidovudine
Zileuton
Zinc Sulfate
Zingiber
Ziprasidone
Zoledronic Acid
Zolmitriptan
Zonisamide
Zoster