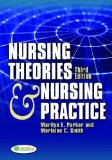 Author: Marilyn Parker, PhD, RN, FAAN, Marlaine Smith, PhD, RN, AHN-BC, FAAN
Affiliation: Florida Atlantic University
Publisher: F.A. Davis Company
Publication Date: 2010
ISBN 10: 080362168X
ISBN 13: 9780803621688
Edition: 3rd

Description:
Noted theorists and scholars explore the historical and contemporary theories that are the foundation of nursing today. The 3rd Edition of this highly praised book meets the needs of today's students with a new focus on the models that define the best outcomes and provide the evidence that supports nursing practice.
Related Titles