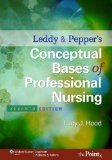 Author: Lucy Hood, RN, PhD
Affiliation: St. Luke's College; Kansas City, MO
Publisher: Lippincott Williams & Wilkins
Publication Date: 2010
ISBN 10: 0781792487
ISBN 13: 9780781792486
eISBN: 9781469865041
Edition: 7th

Description:
Now in its Seventh Edition, this broad-based text addresses the philosophical, developmental, theoretical, accountability, care delivery, and leadership issues encountered by professional nurses throughout a lifetime career. The book outlines the multidimensional roles that encompass professional nursing practice. This edition includes key updated information regarding the influence of nurses in public policy formation, changes in health care delivery, multicultural issues in professional practice, and nursing practice implications of new advances in technology, management, and nursing research. Clinical vignettes based on real-life scenarios illustrate key concepts in each chapter while offering an opportunity to prepare for future professional challenges. From Theory to Practice questions offer a way to link key chapter points to daily practice. To stimulate critical thinking and classroom discussion, questions for reflection are interspersed throughout each chapter. Research briefs appear in chapters when applicable to promote the use of research in clinical practice. Updated Internet exercises provide current online resources to expand knowledge related to each chapter.
Related Titles