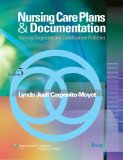 Author: Lynda Carpenito-Moyet, R.N., M.S.N., C.R.N.P.
Affiliation: ChesPenn Health Services; Chester, PA
Publisher: Lippincott Williams & Wilkins
Publication Date: 2009
ISBN 10: 0781770645
ISBN 13: 9780781770644
eISBN: 9781469866192
Edition: 5th

Description:
The Fifth Edition of Nursing Care Plans and Documentation provides nurses with a comprehensive guide to creating care plans and effectively documenting care. This user-friendly resource presents the most likely diagnoses and collaborative problems with step-by-step guidance on nursing action, and rationales for interventions. New chapters cover moral distress in nursing, improving hospitalized patient outcomes, and nursing diagnosis risk for compromised human dignity. The book includes over 70 care plans that translate theory into clinical practice.
Related Titles