UNDERSTANDING THE WORK OF NURSE THEORISTS
A Creative Beginning Second Edition
This title has been archived.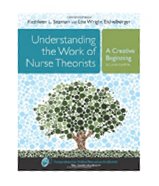 Author: Kathleen Sitzman, PhD, RN, Lisa Eichelberger, DSN, RN
Affiliation: College of Nursing Professor, East Carolina University, Greenville, North Carolina
Publisher: Jones & Bartlett Learning
Publication Date: 2011
ISBN 10: 0763778168
ISBN 13: 9780763778163
eISBN: 9781449611279
Edition: 2nd

Description:
Understanding the Work of Nurse Theorists: A Creative Beginning, Second Edition presents the difficult concepts of nursing theory through the use of art, allowing students become more engaged and active learners. Designed for BSN-level courses, this text presents definitions and basic concepts along with a brief overview of a selection of common nursing theories. The Second Editon has been updated to include new chapters on the theories of Patricia Benner, Imogene King, and Rosemarie Parse as well as a chapter on the process of theory development by Jean Watson.
Related Titles