2019-2020 Perianesthesia Nursing Standards, Practice Recommendations and Interpretive Statements This title has been archived.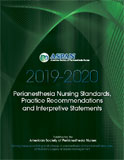 Author: ASPAN
Affiliation:
Publisher: American Society of PeriAnesthesia Nurses
Publication Date: 2018
ISBN 10: 0017688345
ISBN 13: 9780017688347
eISBN: 9780017688354
Edition: 1st

Description:
Since the first publication of the American Society of PeriAnesthesia Nurses (ASPAN) Standards of Perianesthesia Nursing Practice in 1984, the Standards has provided a framework for the expanding scope of care for a diverse patient population across all perianesthesia settings. The Standards are reviewed and updated on an ongoing basis by a team of clinical practice experts and are republished biennially. Each revised edition incorporates current evidence-based practice, emerging regulatory requirements, and reflects changing technology and nursing practice. The 2019-2020 edition of the ASPAN Standards contains principles of safety and ethics in perianesthesia practice, perianesthesia practice standards, practice recommendations, position statements, resources from partnering organizations and interpretive statements which provide clarity and definition to key elements of the standards. The practice recommendation for care of the adult patient with obstructive sleep apnea, as well as the prevention of unwanted sedation in the adult patient, both have been updated with new clinical evidence. New position statements include a position statement on opioid stewardship in perianesthesia practice, a position statement on gender diversity, a position statement on CPAN and CAPA perianesthesia nursing certification, and a position statement on marjiuana. Each edition of the ASPAN Standards serves perianesthesia nurses as an invaluable resource and provides guidance and support for the expanding scope of perianesthesia nursing practice across the care continuum.
Related Titles