Implementing Curricular and Institutional Climate Changes to Improve Health Care for Individuals Who are LGBT, Gender Nonconforming, or Born With DSD.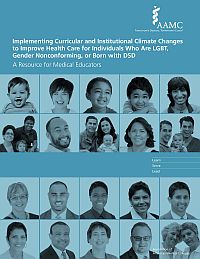 Author: Andrew Hollenbach, Ph.D., Kristen Eckstrand, Ph.D., Alice Dreger, Ph.D.
Affiliation:
Publisher: Association of American Medical Colleges
Publication Date: 2014
ISBN 10: 0000901024
ISBN 13: 9780000901026
eISBN: 9780000901125
Edition: 1st

Description:
Health care disparities continue to be experienced by people who are LGBT, gender nonconforming, and/or are born with differences in sex development (DSD). To reduce these disparities, all health care providers must learn to address the specific health care needs of these populations, and health care institutions must promote a climate that supports, values, and includes individuals in these populations. There has been no standardized set of competencies for medical education to address the health of individuals who are or may be LGBT, gender nonconforming, and/or born with DSD. Therefore, even the most progressive institutions have lacked a guide to direct curricular and institutional climate changes specific to these populations. This groundbreaking publication was developed to fill that gap and is based on solid educational and assessment practices and theories. It is designed to assist institutions in implementing curricular and climate change in medical educational institutions or programs.
Related Titles