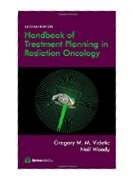 Author: Gregory Videtic, MD, CM, FRCPC, Neil Woody, MD
Affiliation: Cleveland Clinic Lerner College of Medicine of Case Western Reserve University, OH
Publisher: Demos
Publication Date: 2015
ISBN 10: 1620700352
ISBN 13: 9781620700358
eISBN: 9781617051975
Edition: 2nd

Description:
This is a highly practical resource about the specific technical aspects of delivering radiation treatment. Pocket-sized and well organized for ease of use, the book is designed to lead radiation oncology trainees and residents step by step through the basics of radiotherapy planning and delivery for all major malignancies. This second edition retains the valued features of the first edition-comprehensive yet concise, practical, evidence-based-while incorporating recent advances in the field. This includes expanded and updated discussions of SBRT for prostate and GI tumors, intraoperative therapy for GI tumors, VMAT for brain tumors, and new coverage of MRI-based planning in simulation. Chapters are the result of a joint collaboration between residents and staff radiation oncologists in the Department of Radiation Oncology at the Cleveland Clinic. Sections are organized by body site or system-whichever is best suited to consistency in presenting planning principles. Also included are such specialized topics as palliative therapy and pediatrics. More than 200 images help to clarify the steps of radiotherapy planning and delivery. Written by and for residents on the "front lines" of their training, it is also a valuable resource for training other professionals in the field such as technologists, nurses, dosimetrists, and others as well as a quick reference for practicing physicians.
Related Titles