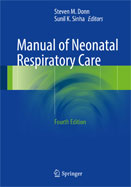 Author: Steven Donn, Sunil Sinha
Affiliation:
Publisher: Springer Nature
Publication Date: 2017
ISBN 10: 3319398377
ISBN 13: 9783319398372
eISBN: 9783319398396
Edition: 4th

Description:
The latest edition of this popular book covers the "how-to" of respiratory care of newborns. Chapters from the previous edition have been updated to reflect advances in both equipment and practice, while newer chapters reflect the evolving worldwide approaches to neonatal respiratory failure, such as sustained inflation, optimization of lung volume, and the use of volumetric capnography, aerosol therapy, and management of chylothorax. New additions to the book also include chapters on assessment of large data bases, implementation of quality improvement programs in neonatal respiratory care, chronic ventilation of the baby with non-respiratory failure. The text also features case studies for self-review and is illustrated with high quality radiographic images, figures, tables, and algorithms. Written and edited by international experts, the Manual of Neonatal Respiratory Care, Fourth Edition is a thorough update and remains a convenient source of practical information on respiratory physiology, exam techniques, tips for performing procedures, radiography, ventilation, pain management, transport, and discharge planning.
Related Titles