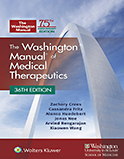 Author: Zachary Crees, MD, Cassandra Fritz, MD, Alonso Heudebert, MD, Jonas Noé, MD, Arvind Rengarajan, MD, Xiaowen Wang, MD
Affiliation:
Publisher: Lippincott Williams & Wilkins
Publication Date: 2020
ISBN 10: 1975113489
ISBN 13: 9781975113483
eISBN: 9781975113490
Edition: 36th

Description:
Established for more than 75 years, The Washington Manual of Medical Therapeutics, 36th Edition , provides concise, high-yield content that reflects today's fast-changing advances in medical technology and therapeutics. In one convenient, portable resource, you'll find complete coverage of every area of medicine and the core subspecialties—all at your fingertips for quick review and reference. Discover why housestaff and faculty worldwide depend on this best-selling resource for day-to-day clinical practice in internal medicine.
Related Titles