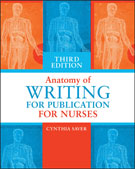 Author: Cynthia Saver, MS, RN
Affiliation: CLS Development, Inc.
Publisher: Sigma Theta Tau International
Publication Date: 2017
ISBN 10: 1945157216
ISBN 13: 9781945157219
eISBN: 9781945157233
Edition: 3rd

Description:
ighly anticipated and fully updated, Anatomy of Writing for Publication for Nurses, Third Edition, is a practical and useful guide for nurses who need to bridge the gap from incomplete sentences to a published manuscript. Lead Author and Editor Cynthia Saver removes the fear and confusion most nurses have about the writing and publishing process. Along the way, 25 of nursing's top writing experts and decision makers share important insights to help you increase the likelihood that your manuscript gets accepted for publication.
Related Titles