Neonatal Nursing: Clinical Competencies and Education Guide This title has been archived.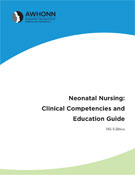 Author: AWHONN
Affiliation:
Publisher: Association of Women's Health, Obstetric and Neonatal Nurses (AWHONN)
Publication Date: 2012
ISBN 10: 1938299000
ISBN 13: 9781938299001
eISBN: 9780015607456
Edition: 6th

Description:
This guide will provide you with the framework that identifies the specialized body of knowledge, skills, and competencies integral to neonatal nursing practice. The sixth edition includes role definitions for the neonatal nurse, neonatal nurse practitioner, and clinical nurse specialist in low- and high-risk neonatal settings.
Related Titles