Chemotherapy and Biotherapy Guidelines and Recommendations for Practice This title has been archived.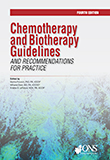 Author: Martha Polovich, PhD, RN, AOCN®, MiKaela Olsen, MS, RN, AOCNS®, Kristine LeFebvre, MSN, RN, AOCN®
Affiliation: Consultant, Atlanta, GA
Publisher: Oncology Nursing Society
Publication Date: 2014
ISBN 10: 1935864335
ISBN 13: 9781935864332
eISBN: 9781935864493
Edition: 4th

Description:
Order your copy of the fourth edition of the best-selling resource used by more than 101,000 healthcare professionals since 2009 and keep up-to-date on the latest chemotherapy, biotherapy, and targeted agents. This new edition of the Chemotherapy and Biotherapy Guidelines and Recommendations for Practice has been revised and updated to reflect the current procedures and practices in your specialty. You'll find that this latest edition incorporates a number of significant changes. To help you find the content and information that you need quickly and easily, the text has been reorganized and is now divided into 11 chapters ranging from an overview of cancer and cancer treatment and principles of antineoplastic therapy to post-treatment care and competencies in chemotherapy administration. Patient education information has also been expanded in the new edition to emphasize importance of education in patient care. And, finally, look for new information on chemotherapy sequencing and updates on the nursing management of treatment side effects. As with previous editions, the guidelines strives to bring you the latest details on approved drugs, standards of practice, and available evidence. Make sure to update your library with this latest edition of one of the most trusted and widely used resources for practicing oncology nurses.
Related Titles