Clinical Guide to Antineoplastic Therapy: A Chemotherapy Handbook This title has been archived.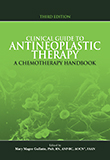 Author: Mary Gullatte, PhD, RN, ANP-BC, AOCN®, FAAN
Affiliation: Emory University Hospital Midtown & Emory's Nell Hodgson Woodruff School of Nursing, Atlanta, GA
Publisher: Oncology Nursing Society
Publication Date: 2014
ISBN 10: 1935864319
ISBN 13: 9781935864318
eISBN: 9781935864363
Edition: 3rd

Description:
Get the latest information on antineoplastic use and patient care when you purchase your copy of the essential chemotherapy resource for cancer-care professionals. Newly updated, revised, and expanded, the third edition of the Clinical Guide to Antineoplastic Therapy: A Chemotherapy Handbook serves as an up-to-date reference for clinicians at every level from students and novices to the most seasoned nurses and other healthcare professionals involved in the care of patients receiving chemotherapy. Edited by Mary Magee Gullatte, this comprehensive guide features chapters on the fundamentals of antineoplastic therapy, commonly used regimens for specific cancers, clinical trials, reimbursement for chemotherapy, botanicals and other complementary and alternative therapies, vascular access devices, and symptom management, as well as an easy-to-use A Z guide of more than 150 chemotherapy, biotherapy, and hormonal therapy agents. New to this edition are chapters on patient navigation in oncology, patient and family support, late effects of chemotherapy, stem cell transplantation science and practice, strategies for improving patient adherence to oral regimens, pharmacogenomics and chemotherapy, and survivorship. The third edition to the Clinical Guide to Antineoplastic Therapy is a must-have guide to antineoplastics and a key addition to your nursing library!
Related Titles