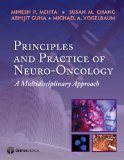 Author: Minesh Mehta, MD, FASTRO, Susan Chang, MD, Abhijit Guha, MSc, MD, FRCSC, FACS, Herbert Newton, MD, FAAN, Michael Vogelbaum, MD, PhD, FACS
Affiliation: University of Wisconsin, Madison, WI
Publisher: Demos
Publication Date: 2011
ISBN 10: 1933864788
ISBN 13: 9781933864785
eISBN: 9781617050145
Edition: 1st

Description:
Neuro-oncologic (brain and spine) cancers account for 19,000 new cases and 13,000 deaths per year. The early and proper diagnosis of these virulent cancers is critical to patient outcomes and diagnosis and treatment strategies are continually evolving. The multidisciplinary team that manages these patients involves medical radiation oncology, neurosurgery, molecular biology, neuroimaging, nurses and therapists. Principles and Practices of Neuro-Oncology establishes a new gold standard in care through a comprehensive, multidisciplinary text covering all aspects of neuro-oncology. Six major sections cover all topics related to epidemiology and etiology, molecular biology, clinical features and supportive care, imaging, neuroanatomy and neurosurgery, medical oncology and targeted therapies, and radiation oncology for adult and pediatric cancers. Over a hundred expert contributors provide in-depth and discussions of the most current knowledge of pathophysiology and etiology of neuro-oncologic tumors and state of the art discussions of clinical management. Throughout the book a multidisciplinary approach to management is emphasized.
Related Titles