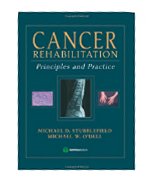 Author: Michael Stubblefield, MD, Michael O'Dell, MD
Affiliation: Memorial Sloan-Kettering Cancer Center & Cornell University, New York
Publisher: Demos
Publication Date: 2009
ISBN 10: 1933864338
ISBN 13: 9781933864334
eISBN: 9781935281382
Edition: 1st

Description:
This new comprehensive reference provides a state-of-the-art overview of the principles of cancer care and best practices for restoring function and quality of life to cancer survivors. Authored by some of the world's leading cancer rehabilitation experts and oncology specialists, the principles section provides primer level discussions of the various cancer types and their assessment and management. The practice section thoroughly explores the identification, evaluation, and treatment of specific impairments and disabilities that result from cancer and the treatment of cancer. This groundbreaking volume enables the entire medical team to provide superior care that results in a better quality of life for cancer survivors. Features include: Multi-specialty editorship and authorship from physiatry, oncology, physical therapy, occupational therapy,and related disciplines. Focus on therapeutic management of cancer-related impairments and complications. In-depth treatment of the medical, neurologic, musculoskeletal, and general rehabilitation issues specific to this patient population.
Related Titles