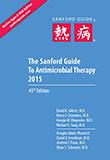 Author: David Gilbert, M.D., Henry Chambers, M.D., George Eliopoulos, M.D., Michael Saag, M.D.
Affiliation:
Publisher: Antimicrobial Therapy
Publication Date: 2015
ISBN 10: 1930808844
ISBN 13: 9781930808843
Edition: 45th

Description:
The 45th edition of the leading reference on treatment of infectious diseases and anti-infective drug information. Available in print in pocket size, spiral bound and large library editions. New material and areas of significant change in this 45th edition include: * HCV treatment (Table 14G): Expanded treatment options using the newest direct acting agents (DAA) for interferon-free therapy based on the latest guidelines. * Parasitic diseases (Table 13A): Treatment of parasitic diseases has been comprehensively updated. * Antiretroviral therapy (Table 14): New once daily single tablet regimens have been added. * Antibacterial drug information (Table 9, Table 10): Pharmacology data and adverse effects summary have been extensively updated. * Resistant Bacteria (Tables 1, 5, & 6): Updates reflect the latest data and treatment options, including new agents for treatment of resistant S. aureus.
Related Titles