Supervising Individual Psychotherapy
The Guide to "Good Enough"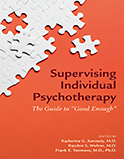 Author: Katherine Kennedy, M.D., Randon Welton, M.D., Frank Yeomans, M.D., Ph.D.
Affiliation:
Publisher: American Psychiatric Association Publishing
Publication Date: 2023
ISBN 10: 1615374248
ISBN 13: 9781615374243
eISBN: 9781615374250
Edition: 1st

Description:
After 30 years of declining practice among psychiatrists, psychotherapy is being increasingly recognized as a valuable tool in psychiatric care. While this renewed appreciation offers hope for the future, a serious challenge remains: There are alarmingly few psychiatrists equipped as psychotherapy supervisors to help train the next generation of psychiatrists. Encouraging psychiatrists to consider stepping into this important role is what makes Supervising Individual Psychotherapy such a timely and indispensable resource. With a multipronged approach that combines the theoretical and the practical, supported by illustrative clinical vignettes, this guide focuses on four key areas: *The process of supervisor development, including helpful tools for building supervisory skills and fostering self-growth, practical methods for establishing and maintaining a healthy supervisory relationship, and a collection of vignettes to highlight the supervisee's perspective. Also addressed are common ethical questions that arise in the supervisory process. *Specific techniques used in supervision, including how to establish and monitor goals for supervision, provide supervision via internet-mediated videoconferencing, and thoughtfully plan for the termination of supervision. *Challenges that may arise in supervision, including an examination of the effects of marriage, divorce, illness, and death on the supervisory dyad; the legal aspects of supervision (e.g., confidentiality, medicolegal liability); and the risks of burnout in both the supervisor and the supervisee. With a richness of detail organized in an accessible and easy-to- reference format, this book clearly covers the skills, capabilities, and qualities needed to provide effective psychotherapy supervision-and is tailor-made for early- and mid- career supervisors who are looking to develop and refine their skills. Audience: Clinical psychiatrists, psychologists, social workers, and other ...
Related Titles