Red Book: 2018–2021 Report of the Committee on Infectious Diseases This title has been archived.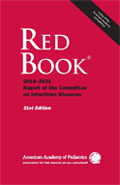 Author: Committee on Infectious Diseases, American Academy of Pediatrics, David Kimberlin, MD, FAAP
Affiliation: Children's South Pediatric Outpatient Center, Birmingham, AL
Publisher: American Academy of Pediatrics
Publication Date: 2018
ISBN 10: 1610021460
ISBN 13: 9781610021463
eISBN: 9781610021470
Edition: 31st

Description:
Extending an 8-decade tradition of excellence, Red Book provides the most reliable and clinically useful information on the manifestations, etiology, epidemiology, diagnosis and treatment of more than 200 childhood infectious diseases. The 31st edition provides evidence-based guidance to practicing clinicians on pediatric infections and vaccinations based on the recommendations of the committee as well as the combined expertise of the CDC, the FDA, and hundreds physician contributors. Red Book is an indispensable reference for pediatricians and pediatric infectious specialists and is useful for family medicine and emergency medicine physicians as well. Public health and school health professionals, medical residents, and students also will find it a high-yield source of pediatric infectious disease and vaccine information.
Related Titles