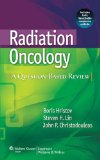 Author: Boris Hristov, MD, Steven Lin, MD, PhD, John Christodouleas, MD, MPH
Affiliation: David Grant Medical Center, Travis Air Force Base, CA
Publisher: Lippincott Williams & Wilkins
Publication Date: 2011
ISBN 10: 1608314448
ISBN 13: 9781608314447
eISBN: 9781469866376
Edition: 1st

Description:
Radiation Oncology: A Question-Based Review is a comprehensive active learning tool for medical students, residents, and junior attending physicians in radiation oncology. The first question-and-answer review book in this field, it will help professionals quickly and efficiently review specific topics in clinical radiation oncology. It is also an ideal preparation tool for written and oral board examinations. Organized in chapters and sections by site, the book covers in detail all the sites and cancer types currently treated with radiotherapy. Emphasis is on treatment recommendations and the evidence behind them. Detailed questions are also included on the natural history, epidemiology, diagnosis, staging, and treatment-related side effects for each cancer type.
Related Titles