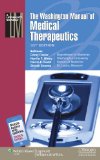 Author: Corey Foster, MD, Neville Mistry, MD, Parvin Peddi, MD, Shivak Sharma, MD
Affiliation: Washington University School of Medicine, St. Louis, MO
Publisher: Lippincott Williams & Wilkins
Publication Date: 2010
ISBN 10: 1608310035
ISBN 13: 9781608310036
eISBN: 9781469829067
Edition: 33rd

Description:
Established for over 40 years as the bible of the medical ward, The Washington Manual of Medical Therapeutics is now in its Thirty-Third Edition and builds upon that proud tradition with even more of the current information you need, delivered in a timesaving, quick-reference style. Its portability, comprehensiveness, and ease of access makes it a favorite on-call resource for housestaff and faculty around the world. Continuing the tradition of excellence, each chapter has been updated and reformatted for easier access to the information the reader needs. This edition has additional algorithms for diagnosis and treatment. The Washington Manualr is a registered mark belonging to Washington University in St. Louis to which international legal protection applies. The mark is used in this publication by LWW under license from Washington University.
Related Titles