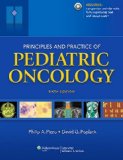 Author: Philip Pizzo, M.D., David Poplack, M.D.
Affiliation: Stanford University School of Medicine
Publisher: Lippincott Williams & Wilkins
Publication Date: 2011
ISBN 10: 160547682X
ISBN 13: 9781605476827
eISBN: 9781451125016
Edition: 6th

Description:
Thoroughly updated for its Sixth Edition, Principles and Practice of Pediatric Oncology provides a comprehensive review of the multiple disciplines that make up the care and research agendas for children with cancer. It is the most comprehensive textbook of pediatric oncology ever put together, covering biology and genetics and detailing the diagnosis, multimodal treatment, and long-term management of patients with cancer. The fundamental principles of supportive care and the psychosocial aspects of support for patients and families are also discussed. Twenty percent of the chapters in this edition are either brand-new or written by new contributors, and all the other chapters have been considerably updated. The book provides state-of-the-art information on the molecular genetics and biology of cancer as well as new approaches to diagnosis and management.
Related Titles