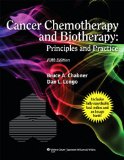 Author: Bruce Chabner, MD, Dan Longo, MD
Affiliation: Harvard Medical School, Boston
Publisher: Lippincott Williams & Wilkins
Publication Date: 2011
ISBN 10: 1605474312
ISBN 13: 9781605474311
eISBN: 9781451124538
Edition: 5th

Description:
Updated to include the newest drugs and those currently in development, Cancer Chemotherapy and Biotherapy, Fifth Edition is a comprehensive reference on the preclinical and clinical pharmacology of anticancer agents. Organized by drug class, the book provides the latest information on all drugs and biological agents their mechanisms of action, interactions with other agents, toxicities, side effects, and mechanisms of resistance. Chapters emphasize pharmacology and mechanisms of action at the molecular and cellular levels, followed by clinical activity and toxicity, both acute and delayed. The authors explain the rationale for use of drugs in specific schedules and combinations and offer guidelines for dose adjustment in particular situations. The previous edition was one of Doody's Core TitlesT 2009. This edition's introduction includes timely information on general strategies for drug usage, the science of drug discovery and development, economic and regulatory aspects of cancer drug development, and principles of pharmacokinetics. Eight new chapters have been added and more than twenty have been significantly revised.
Related Titles