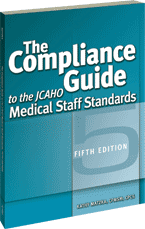 Table of Contents Available
This title has been archived.
Author: Kathy Matzka, CPMSM, CPCS
Affiliation:
Publisher: HCPro, Inc.
Publication Date: 2006
ISBN 10: 1578398835
ISBN 13: 9781578398836
Edition: 5th
Description:
Now in its fifth edition, this book features completely updated information, tools, and insights that will help in understanding and preparing medical staff for survey under the new 2007 standards. With The Compliance Guide to the JCAHO Medical Staff Standards, Fifth Edition in your library, you'll save hours rifling through hundreds of pages of documents, trying to decipher ways to comply. All the standards that relate to you and all the procedures you need to implement are consolidated into this one convenient, easy-to-understand resource.